Death toll from New Zealand quake climbs to 147
STORY HIGHLIGHTS
The civil defense ministry says 70 people have been rescued alive
More than 200 are reported missing, police say
The country's government launches an international fundraiser for victims
Rescue and recovery crews are combing through the rubble
(CNN) -- The death toll from the 6.3-magnitude earthquake that demolished parts of Christchurch, New Zealand, last week has climbed to 147, authorities said Sunday.
The figure is expected to rise, the country's civil defense ministry said.
Seventy people have been rescued alive since the quake struck Tuesday, the agency said.
Authorities are still working to identify the dead, police said.

Quake survivors sift through rubble

Haiti quake survivor helps Christchurch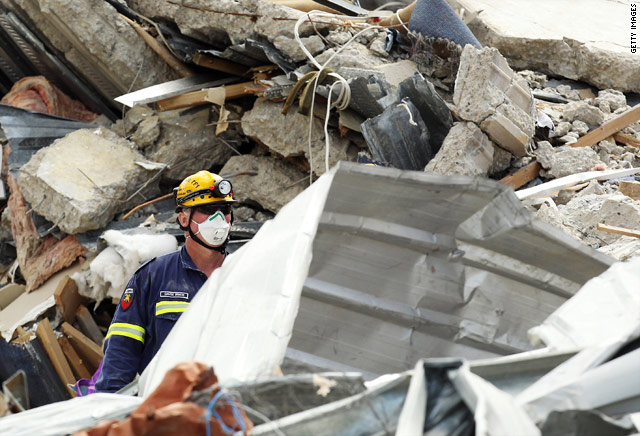 Gallery: New Zealand quake
"We still have a list of over 200 people who we consider missing but we believe that most, if not all of those who have been confirmed dead are on that missing list. It is only once we have confirmed the identity of someone who has died that we can crosscheck and remove their name from the missing list," New Zealand Police District Commander Dave Cliff told reporters Sunday.
Meanwhile, the country's government established a global fundraiser -- dubbed the Christchurch Earthquake Appeal -- to help victims
"It's vital we reach as many people throughout the world as possible who want to help. This isn't just New Zealand's tragedy -- the February 22 earthquake affected countless people internationally," Prime Minister John Key said in a statement.
Rescue and recovery crews have been combing through damaged buildings since the quake struck Tuesday -- toppling buildings, buckling streets and ripping the facades of iconic churches, including the Christchurch Cathedral and the Cathedral of the Blessed Sacrament.
A series of aftershocks followed.
Southern New Zealand has been hit by a series of quakes since September 4 when a 7.1-magnitude temblor struck the area. There were no deaths from that quake, which struck deeper below ground and farther away from Christchurch.
Tuesday's earthquake was part of the "aftershock sequence" from the September earthquake, the U.S. Geological Survey said.
FOLLOW THIS TOPIC


Part of complete coverage on

Freelance CTV presenter and Newstalk ZB radio host Mike Yardley gives a first-hand account of the Christchurch earthquake.

"I was finding it hard to breathe, and I really thought that was it for me," said earthquake survivor Anne Vos.

Check out CNN's high resolution image gallery of scenes from Tuesday's earthquake in Christchurch, New Zealand.

Christchurch resident Rhys Taylor explains how people affected by the quake are aiding each other.

In New Zealand? Then send your iReport photos, videos. Don't do anything that could put your life at risk.

CNN's Anna Coren says quake rescue efforts in New Zealand are turning into body recovery missions.

Many of Christchurch's buildings were badly damaged in the deadly earthquake in New Zealand on Tuesday. TVNZ reports.

Scientists in New Zealand said there had been less than a one in twenty chance of Tuesday's earthquake being so destructive.


Today's five most popular stories