STORY HIGHLIGHTS
People in Japan on Saturday were looking for loved ones and assessing damage
Fears grow for survivors after reports that one power plant may be leaking radiation
Japan is still being rattled by aftershocks after its worst quake on record
Tsunami watches are still in effect a day after waves moved six miles inland
Tokyo, Japan (CNN) -- As rescue crews continue to count the cost to life and property after the largest earthquake on record in the country, people in Japan on Saturday are struggling to contact loved ones near the hardest hit areas.
Lucy Craft, a freelance correspondent in Tokyo, has a teenage son at a high school near the epicenter in Sendai, northeast of Tokyo. More than 18 hours after the quake, she hadn't been able to make contact.
"The phone lines are still down ... I haven't been able to get in touch with him by cell phone, I haven't been able to contact anybody there. I have his teacher's phone number ... the phones aren't working," Craft said Saturday morning in Tokyo. "It's a very upsetting situation, as you can imagine."
She has been able to make contact to police in Miyagi-ku, the area where the school is located, and they "hadn't have any reports of students gone missing or hurt. They assume he has taken refuge at his school," Craft said. "The school is not near the coast, so that's one saving grace."

A day of destruction in Japan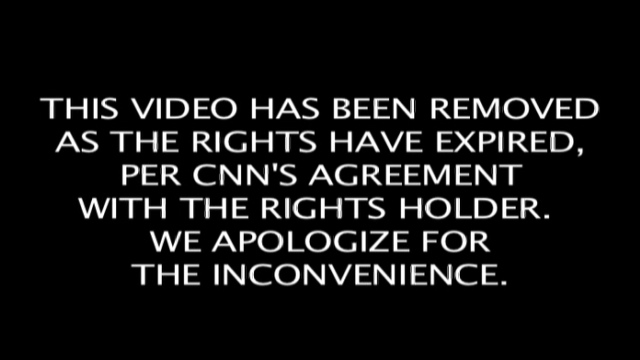 Tsunami waters engulf town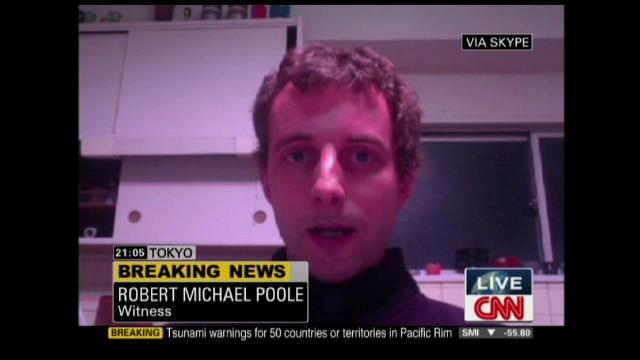 Witness: Japan quake unlike any before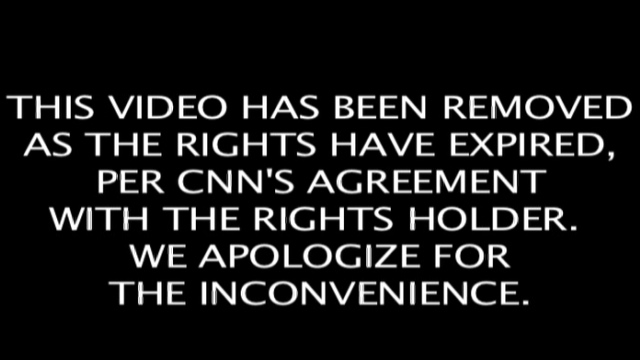 Refinery ablaze after quake

Moment of the Japan quake

Japan rail system comes to a halt
Tsunami warnings maintain in effect for coastal areas of the nation, still being rattled by aftershocks of the 8.9-magnitude quake, which was centered near the east coast of Japan, killed hundreds of people, caused the formation of 30-foot walls of water that swept across rice fields, engulfed entire towns, dragged houses onto highways, and tossed cars and boats like toys. Some waves reached six miles (10 kilometers) inland in Miyagi Prefecture on Japan's east coast.
Buildings collapsed by the score, and numerous fires were ignited.
Hundreds more people were missing, Japanese media reported, citing local and national police. Tens of thousands of people were displaced, according to Japan's Kyodo News Agency.
Fears also grow for survivors as reports that one nuclear power plant in the hardest hit area may be leaking radiation.
Citing the Tokyo Electric Power Co., Japan's Kyodo News Agency said that radioactive substances may have seeped out of the Fukushima Daiichi nuclear reactors, about 160 miles (260 kilometers) north of Tokyo.
Potentially dangerous problems in cooling radioactive material appear to have cropped up there, as well as at another of the Tokyo Electric Power Company's nuclear plants. Both plants are named Fukushima Daiichi and both have nuclear reactors, but they are separate facilities.
Kyodo reported Saturday that the power company alerted authorities that the cooling system at three of the four units of one Fukushima Daini plant in northeastern Japan's Fukushima prefecture had failed.
Residents of northern Japan streamed south from their earthquake-stricken hometowns Saturday, crowding stores in search of vital supplies as rescue teams worked north toward the historic quake's epicenter.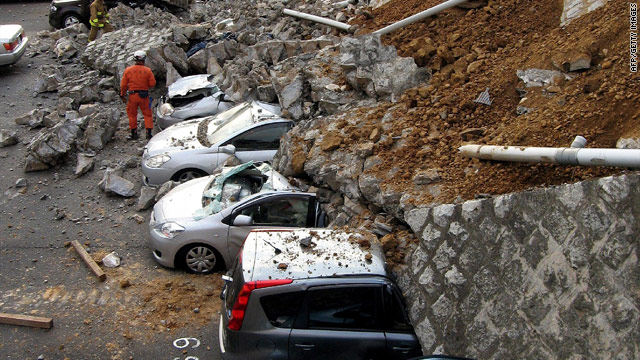 Gallery: Massive quake hits Japan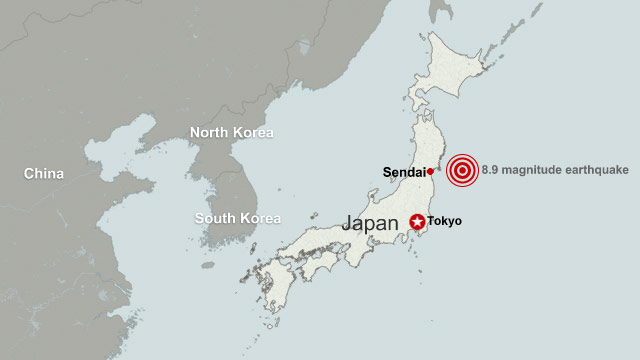 Map: 8.9 earthquake hits Japan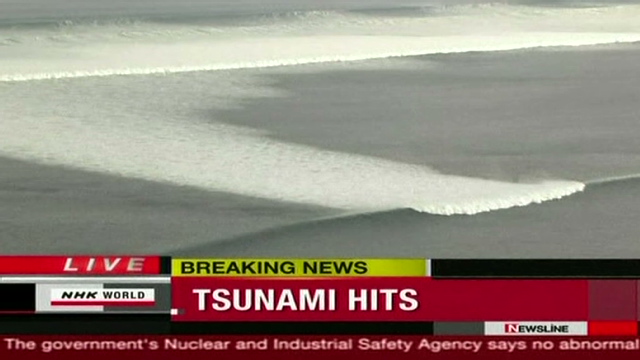 Witness deals with quake terror

Cars ablaze in wake of Japan quake
Roads and buildings showed cracks as far away as 200 kilometers (125 miles) from Sendai, the closest city to the epicenter. One man told CNN the scene in towns hit by the quake and the resulting tsunami was "unimaginable."
Shoppers were polite but tense as they sought food, water and gasoline from stores where shelves were quickly emptied and pumps soon ran dry. A slow, steady line of cars trickled south from the disaster zone as people either left the area or shuttled to the stores, many of which were without power and had broken glass scattered down the aisles.
Japan's major highways, large sections of which are elevated, have been closed since the magnitude 8.9 quake struck off the country's northeastern coast Friday afternoon. Automobile traffic crawled on smaller, two-lane roads as power outages left the sleek, electric-powered "bullet trains" -- shining examples of Japan's advanced technology, normally capable of speeds nearing 200 mph -- sitting motionless on their tracks.
Closer to the heart of the disaster, collapsed phone lines and towers left communications spotty. Roads and airfields were washed out by the tsunami; rescue workers headed to the stricken region had to rely on helicopters.
Video from Sendai showed people trapped in the second floors of homes, waving sheets of white cloth in hopes of drawing rescue workers. Residents who have been able to call out reported gas and water were unavailable for a radius well beyond the city of about 1 million.
In the city of Minamisoma, about 90 kiliometers south of Sendai, all that was left of many structures were their foundations. Only concrete and steel buildings appeared to have withstood the wash. No people were visible in the streets of the town, whose population on Friday had been 70,000.
The quake and resulting tsunami left behind a known death toll of more than 200 people by early Saturday, but that number was expected to climb sharply.
Tokyo, about 370 kilometers (230 miles) from the epicenter, was spared major damage from the quake. But power outages and highway closures paralyzed the city as its transit network was shut down.
Commuters who normally pack the city's subways and suburban trains in the city of 13 million tried to flag down taxis, hitch rides or walk home. The roads leading out of Tokyo were clogged by traffic jams that trapped some drivers for up to six hours.
CNN's Paula Hancocks, Tom Watkins, Greg Botelho, Kevin Voigt and Matt Smith contributed to this report
FOLLOW THIS TOPIC