STORY HIGHLIGHTS
Tests and training are being done on a concrete pumper that may be used on Unit 4
90 tons of water are sprayed Monday on that reactor, and 1,170 tons on unit No. 3
Work continues to try to pump electricity to all the reactors to power cooling systems
Concerns remain high about radiation in certain foods and tap water
Tokyo (CNN) -- Officals were training workers Monday to spray the Fukushima Daiichi nuclear power plant's stricken reactors with concrete -- one of several efforts underway to curb the release of more radioactive material.
A 9.0 magnitude tsunami and subsequent tsunami on March 11 has devastated northeast Japan, with more than 8,600 dead and 13,000 missing. But most of the concern, and uncertainty, since then has centered on the Daiichi plant, some 240 kilometers (150 miles) north of Tokyo, as authorities rush to stave off a nuclear crisis over an 11-day span marked by explosions and fears of meltdowns.
Those efforts include a move to possibly encase one or more of the reactors in concrete, a last-ditch effort similar to what was done after the 1986 meltdown at the Chernobyl nuclear plant in the former Soviet Union -- considered the worst nuclear disaster at a plant.
On Monday, an official with Japan's nuclear and industrial safety agency told reporters that tests are expected to be conducted in the afternoon on how to use what he called a "concrete pump engine."
The engine would pump a mix of mortar and water into the reactor's spent nuclear fuel pool and containment vessel, the official said. The pool contains nuclear fuel rods that could give off radioactive material, if exposed and overheated, while the containment vessel is a steel and concrete shell that insulates radioactive material inside.

Why spent fuel rods should matter to you

Lawmaker: Japan's government doesn't lie

Experts track fallout from Fukushima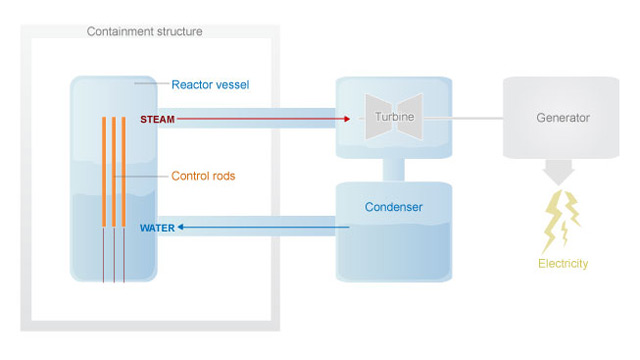 Explainer: Producing nuclear energy
While he did not indicate when or even if the concrete pump would be used, the official did say the target would be the plant's No. 4 reactor. In just over two hours on Monday morning alone, 13 fire engines sprayed about 90 tons toward that reactor in an attempt to cool it down.
A Tokyo electric official told CNN that six workers trying to restore electricity to that reactor have been exposed to more than 100 millisieverts of radiation. For reference, an individual in a developed country naturally is exposed to 3 millisieverts of radiation a year -- though Japan's health industry has set a 250 millisievert limit for those trying to combat the crisis at the Fukushima plant.
The other five reactors, too, are in various states of disrepair -- all subject to intense efforts to avert full or partial meltdowns and the release of radioactive material.
The plant's No. 3 reactor has been a special concern, with a nuclear safety official estimating 1,170 tons of water between sprayed between roughly 9 p.m. Sunday to 4 a.m. Monday alone.
Earlier, officials said that they were monitoring that reactor to determine whether to release gas in order to reduce mounting pressure in the containment vessel. The pressure buildup, specifically from excess hydrogen gas, had caused explosions at that reactor and at the Nos. 1 and 2 reactors. Late last week, three holes apiece were drilled into the Nos. 5 and 6 reactors in order to alleviate pressure.
Meanwhile, restoring power to the facility has been a parallel priority throughout the nuclear facility. The aim is to get cooling systems operating again that could lower temperatures in the reactors, containment vessels and spent fuel pools without the need for spraying, pumping in seawater or other means.
The nuclear and industrial official Monday said that the groundwork of cables had been laid to restore electricity to four of the six reactors.
Setting up the electricity one thing: Another issue is making sure that needed machinery, much of it devastated by the disasters, are still working. To that end, the nuclear safety official said that spare parts were being used or, if need be, brought in to get all everything up in running.

CNN reporter reflects on tsunami damage

TEPCO official reports on power plant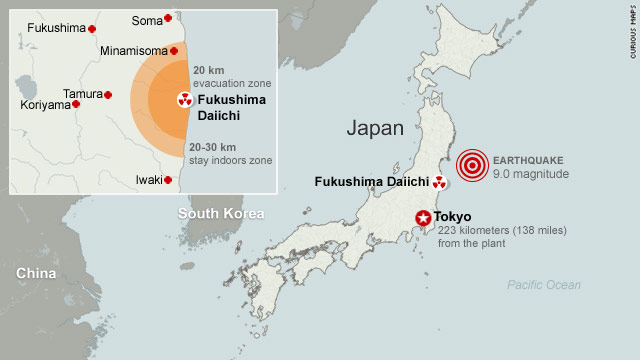 Map: Fukushima Daiichi
These efforts came as concerns remained high about the impact that already emitted radiation has had on food, water and people within range of the Fukushima facility.
Very small amounts -- far below the level of concern -- of radioactive iodine have been detected in tap water in Tokyo and most prefectures near the plant.
The health ministry said levels of radioactive iodine three times greater than the regulated standard were found in drinking water in a village near the plant and asked residents not to drink from the tap, Kyodo News reported Sunday.
The Japanese government has banned the sale of raw milk from Fukushima Prefecture, where the plant is located, and prohibited the sale of spinach from neighboring Ibaraki Prefecture after finding levels of radioactive iodine and cesium higher than government standards, the country's health ministry reported. And officials in Fukushima halted the distribution of locally grown vegetables outside the prefecture.
Edano said the contaminated milk detected in Fukushima Prefecture had not been distributed or sold.
On Saturday, officials said tainted milk was found 30 kilometers (18 miles) from the plant, and spinach was collected as far as 100 kilometers (65 miles) to the south, almost halfway to Tokyo.
The latest results accumulated and posted online by Japan's education, science and technology ministry showed slight but notable upticks in airborne radiation readings around Japan in recent days. But even the highest readings, .11 millisieverts some 30 kilometers northwest of the plant, were still considered significantly below what's considered dangerous to humans.
Nature has helped to minimize such airborne exposure since the quake, as winds from the northwest have blown many emissions from the plant out to sea.
But the wind direction is expected to change through Wednesday, potentially pushing more of the material to the southwest and over land.
"People are watching," said Akira Shioi, who lives in Kawasaki. "And people have greater concern than ever about the nuclear power plant incident."
CNN's Junko Ogura, Catherine E. Shoichet and Yoko Wakatsuki contributed to this report.
FOLLOW THIS TOPIC