IAEA finds high radiation levels outside Japan evacuation zone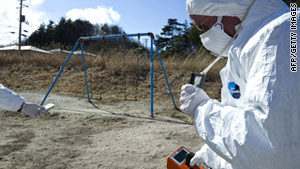 Greenpeace members monitor radiation in Iitate on Sunday, 40 kilometers from the damaged Fukushima Daiichi plant.
STORY HIGHLIGHTS
The levels were found in Iitate, about 25 miles outside the zone
The zone extends about 13 miles from the damaged nuclear plant
Greenpeace first reported the high levels in the town Sunday
Tokyo (CNN) -- Radiation levels in a Japanese town outside a government-ordered evacuation zone have exceeded one of the criteria for evacuation, the International Atomic Energy Agency said Wednesday.
The agency said it advised Japan "to carefully assess the situation."
The elevated levels were found in Iitate, a town of 7,000 residents about 40 kilometers (25 miles) northwest of the earthquake- and tsunami-damaged Fukushima Daiichi nuclear power plant, the agency said. The evacuation zone covers a 20-kilometer (13-mile) radius around the plant.
The agency did not say what levels it found in Iitate, but the environmental group Greenpeace said Sunday it had found radiation levels in the town that were more than 50 times above normal.
Though that is far below the level that would cause radiation sickness, it does pose a risk of cancer to residents in the long term, Greenpeace said.
FOLLOW THIS TOPIC


Part of complete coverage on

One effect of Japan's deadly quake has been to remind many of the importance of family and to drive them to the altar.

Toyota has announced drastic production cuts due to difficulty in supplying parts following the earthquake in Japan.

There's an eerie stillness about the desolate buildings and empty streets of Pripyat.

A photographer documents the ghost town left behind by the nuclear crisis in Japan. What he found was a "time stop."

Somber ceremonies mark one month since the earthquake and tsunami killed as many as 25,000 people.

Witnesses capture the very first moments of the devastating tsunami that struck Japan in March.

A month after a devastating earthquake sent a wall of water across the Japanese landscape, the global terrain of the atomic power industry has been forever altered.

Engineers use a flying drone to peer into the damaged reactors at the Fukushima Daiichi nuclear power plant.


Today's five most popular stories