Group: Activist arrested in ongoing crackdown in China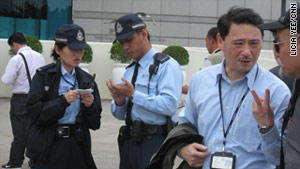 File photo shows police at a demonstration in Hong Kong on February 27.
STORY HIGHLIGHTS
The activist spent five days in detention before he was arrested, the group says
He is part of about 26 people arrested after an internet campaign called for protests
Chinese officials have taken measures to avert major demonstrations
Beijing (CNN) -- Chinese officials have jailed another activist in what some have called an ongoing government crackdown on would-be protesters, a rights group said Thursday.
Activist Chen Wei was formally arrested Friday after spending five days in detention, the Hong-Kong based China Human Rights Defenders said.
CNN was unable to reach Chinese authorities for comment on the case.
The rights group said Chen is part of about 26 people arrested since late February when an anonymous group began an internet campaign calling for anti-government protests in China similar to ones that have taken hold in the Middle East.
The web campaign urged protesters to gather in public places in Beijing and a dozen other Chinese cities. While there have been no visible signs of major demonstrations, Chinese officials have taken measures to avert them.
Authorities have deployed heavy security along major thoroughfares, especially in Wangfujing, a busy shopping street in downtown Beijing that had been designated by the online group for protests.
China also has tightened rules on foreign reporters, explicitly warning them that they risk detention, suspension of press cards and expulsion if they show up at planned demonstrations.
FOLLOW THIS TOPIC