Body of second American found in Japan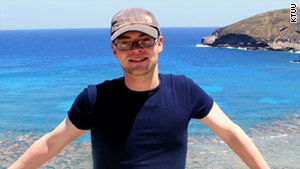 Monty Dickson, 26, taught English at schools on Japan's northeastern coast, the Anchorage Daily News said.
STORY HIGHLIGHTS
Report: Monty Dickson, who was from Alaska, taught English at schools
Relative on the news: "It's really sad, but ... not knowing was just unbearable"
The body of U.S. citizen Taylor Anderson was found March 21
(CNN) -- The body of a second American has been found in Japan, the U.S. State Department's Bureau of Consular Affairs said Wednesday.
"Our heartfelt condolences go out to his family," the bureau said in a statement, identifying the American as Monty Dickson. "Out of respect for their wishes, we do not have further comment."
It was unclear when Dickson's body was found. In the areas hardest hit by the March 11 magnitude-9.0 earthquake and subsequent tsunami, all U.S. citizens are accounted for, the embassy said, although others may be missing in areas that were not among the hardest hit.
Are you there? Share your photos and videos if you can do so safely.
Dickson, 26, taught English at schools around Rikuzentakata, according to the Anchorage Daily News in Anchorage, Alaska, where he was from. He was part of the Japan Exchange and Teaching Program, the newspaper said.

Japan catastrophe: CNN photo story

Quadruple crisis killing a way of life

Toyota president on quake impact
Rikuzentakata is in Iwate Prefecture on Japan's northeastern coast.
"It's really sad, but the torture of not knowing was just unbearable," relative Gloria Shriver told the Daily News on Tuesday. She said the family was working on getting to Japan this week to bring home his body.
"It's been difficult, to say the least," she said.
The body of Taylor Anderson, 24, was found March 21. Anderson taught English to elementary and middle school students in Ishinomaki, a coastal city in Miyagi Prefecture, also as part of the Japan Exchange and Teaching Program.
The death toll in Japan stands at 12,596, according to Japan's National Police, with 14,747 others missing.
CNN's Kyung Lah contributed to this report.
FOLLOW THIS TOPIC


Part of complete coverage on

One effect of Japan's deadly quake has been to remind many of the importance of family and to drive them to the altar.

Toyota has announced drastic production cuts due to difficulty in supplying parts following the earthquake in Japan.

There's an eerie stillness about the desolate buildings and empty streets of Pripyat.

A photographer documents the ghost town left behind by the nuclear crisis in Japan. What he found was a "time stop."

Somber ceremonies mark one month since the earthquake and tsunami killed as many as 25,000 people.

Witnesses capture the very first moments of the devastating tsunami that struck Japan in March.

A month after a devastating earthquake sent a wall of water across the Japanese landscape, the global terrain of the atomic power industry has been forever altered.

Engineers use a flying drone to peer into the damaged reactors at the Fukushima Daiichi nuclear power plant.


Today's five most popular stories