STORY HIGHLIGHTS
World One's developers say the residential building will be the world's tallest once constructed
Donald Trump is among many developers building luxury condos in Mumbai
Tata's Siruseri complex in Chennai is designed to look like six giant butterflies
(CNN) -- The skylines of India's major cities are changing fast as iconic new office buildings and luxury apartment blocks serve the burgeoning business elite.
In Chennai, an office complex shaped like six giant butterflies with a central spine will soon house 24,000 employees of Tata Consultancy Services, India's largest technology firm.
The huge glass and steel structure, called the Siruseri complex, cost $500 million and includes water features, landscaped gardens with 146 kinds of trees, solar panels and has a gold rating from the U.S. Green Building Council.
Chandra Sekaran, chief executive of Tata Consultancy Services, said: "It represents our scale, it represents the aspiration of our people, it represents the success of the Indian IT industry. It represents the future.
"Many of our customers who visit here for the first time are absolutely awed and impressed by what we have been able to achieve."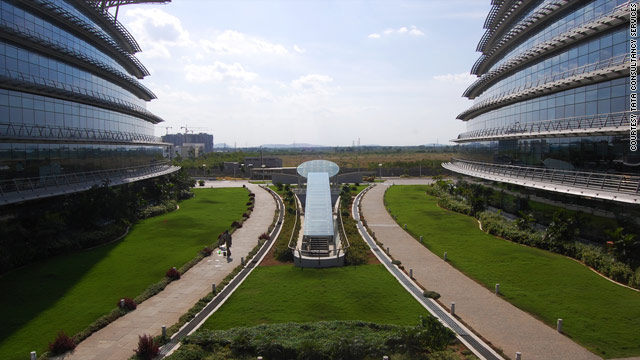 Gallery: India's changing skyline

Mumbai's luxury high-rises
Tata Consultancy Services has earmarked another $1 billion to spend on several state of the art office complexes in different architectural styles over the next five years.
Sekaran said: "The IT industry is young. Our average age is 28 and they all have huge aspirations. They want to build great careers.
"It becomes very important, as an employer, to offer our associates a holistic life. It's about giving them a great environment, an environment where they can ideate, collaborate. It will help us attract the right talent and more importantly, retain the right talent."
In Mumbai, India's financial capital, new luxury apartment blocks are being built throughout the city to cater for the fast-growing number of super-rich. India's millionaire population grew by more than 50% in 2009.
U.S. property tycoon Donald Trump is building a luxury condo in the heart of Mumbai.
It represents the aspiration of our people, it represents the success of the Indian IT industry.
--Chandra Sekaran, CEO of Tata Consultancy Services
His Indian partner, Harresh Mehta of Rohan Lifescapes, said: "In Mumbai, many people have a lot of money. Although the scene looks a little gloomy in terms of the stock market, everyone is doing very well in their business. You'll be surprised how flats are being lapped up."
Work has started on World One, the tallest residential building in the world at 117 stories, or 1,450 feet, being built in the Upper Worli district of Mumbai by Lodha Developers.
India's richest man, Mukesh Ambani, has just built a new home in Mumbai, said to have cost $1 billion, which would make it the world's most expensive home.
Vinod Rahira, of K Raheja Corp. property developers, has a building in which the average apartment costs $2 million. The building is about 80% sold.
Rahira said: "We saw the economy is in much better shape than it used to be. Propensity to consume is there." The most important factor, he added, is "consumers were shouting out for lifestyles."
However, some doubt Mumbai's infrastructure can cope with the building boom.
Poonam Mahtani of real estate firm Colliers International said: "You look at the peak residential location in Mumbai versus Manhattan or central London, you do get peak infrastructure, which you don't get over here. Very few projects will offer you wide roads, great infrastructure."
Anuj Puri from Jones Lang LaSalle questioned whether there is enough demand to fill the buildings.
"You've got a huge amount of supply on one side. There is demand, but the demand is not sufficient to go and complete all the supply that is coming up."
FOLLOW THIS TOPIC