Official: 'Frank discussion' between US, Pakistan intelligence chiefs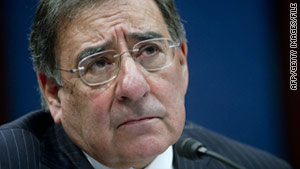 CIA Director Leon Panetta testifies before the House Intelligence Committee in Washington, DC on February 10.
STORY HIGHLIGHTS
The heads of the CIA and Pakistan's Inter Services Intelligence meet in Washington
The two services have been at odds over several issues, from drones to CIA contractors
One official: "Joint cooperation is essential to the security of the two nations"
Washington (CNN) -- The strained U.S.-Pakistan relationship dominated what one official called a "frank discussion" Monday between CIA Director Leon Panetta and Inter Services Intelligence (ISI) head Lt. Gen. Ahmad Shuja Pasha in Washington.
The two intelligence services have been at odds over a number of issues including the CIA's use of unmanned drones to attack suspected terrorists in the tribal areas of Pakistan, the extent of the Pakistani government's counterterrorism efforts, the publication of the name of the CIA station chief in Islamabad and the incident involving Raymond Davis, a CIA contractor who fatally shot two men in Lahore.
CIA spokesman Preston Golson called the discussions between the two men "productive" and said the "CIA-ISI relationship remains on solid footing."
But there have been news reports that Pakistani officials have made demands on the United States to scale back its presence and its counterterrorism operations in the country.
A U.S. official who is not authorized to speak on the record said, "Pakistan has asked for certain things and we're working it out," but the official would not elaborate.
Another U.S. official acknowledged that Pakistan has requested a number of American personnel leave the country, but said a New York Times report indicating that 335 CIA and American special forces personnel have been asked to depart is a "very inflated number."
The official also disputed the claim in the article that the CIA has withdrawn all of its contractors after the arrest of Davis in January.
"There has been no major withdrawal of contractors," said the official.
Although there has not been a CIA missile strike since March 17 when approximately 40 people were killed in North Waziristan, the official said the U.S. "is committed to pursuing aggressive counterterrorism operations."
Pakistani control over who enters the country has had an impact on the United States. The American official indicated that since the ordeal with Davis, it has been "taking longer for American military and intelligence officials to gain entry" into Pakistan.
The first U.S. official referred to Pakistan "playing a public negotiations versus private negotiations game," but the official said it is a "challenging situation," and the two nations are "working through differences."
"The bottom line is that joint cooperation is essential to the security of the two nations. The stakes are too high," said the official.
FOLLOW THIS TOPIC