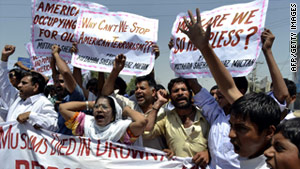 Pakistanis protest U.S. drone attacks in tribal areas Friday, April 22.
STORY HIGHLIGHTS
The details of the U.S. drone campaign in Pakistan are hidden behind smoke and mirrors
A Pakistani official says U.S. personnel have left Shamsi Air Base
U.S. official: "It's news to us, and we would know"
The drone program is the best way to tackle militants in Pakistan, U.S. officials believe
(CNN) -- One thing is certain: Missiles are regularly fired from the sky above Pakistan's tribal areas, sometimes killing what the United States and Pakistan describe as terrorists, sometimes hitting innocent civilians by mistake.
But the rest of the details of America's drone campaign in Pakistan are concealed behind smoke and mirrors -- a series of claims and counter-accusations that reflect the controversy of what some call the largest campaign of extrajudicial executions in recent history.
On Friday, hours after another drone strike, a senior Pakistani intelligence source added to the confusion over the status of this program by asserting that American personnel had left a key military facility in the country's south, known as Shamsi Air Base, where drones are said to land, refuel and take to the sky again.
The statement -- disputed by U. S. officials -- does make one point clear: The relationship between Islamabad and Washington is severely strained. Two countries that publicly claim to be allies fighting militancy in this troubled part of the world are spending a lot of time on a game of one-upmanship and recrimination.
The departure of American personnel -- if confirmed -- would be significant because of increasing strain between Islamabad and Washington sparked by the Pakistani public's anti-American backlash after repeated drone attacks and the case of Raymond Davis, a CIA contractor who fatally shot two Pakistani men in a Lahore neighborhood.
The Pakistani intelligence source did not say why the Americans left the Shamsi base or when, or what they were doing there. But another Pakistani intelligence official said the Americans at the base were supporting the drone program. Neither of the Pakistani intelligence officials wanted to be named while discussing such a sensitive matter.
A series of exchanges with American officials, who also asked to remain anonymous, did little to make things clear. A U.S. military official in Islamabad told CNN that "there are no U. S. forces in the Shamsi Air Base." He did not respond to queries about whether U.S. personnel had been based there in the past. U.S. officials have previously indicated that drones operate out of multiple locations within Pakistan.
However, a separate U. S. official, speaking in the United States, told CNN that the drone operations had not stopped at the Shamsi base. "It's news to us, and we would know," The official added that "even if Pakistan did this, American anti-terrorism operations would continue."
The two American statements leave open the possibility that American contractors or CIA personnel remain at the base, refueling and servicing the drones, as such people technically are not referred to by the U.S. government as "U.S. forces." In addition, civilian contractors routinely service and refuel drones operating in Iraq. Friday's drone strike in Pakistan makes clear whatever changes there have been have not curbed the United States' ability to use drones to hit tribal areas.
While they are reluctant to say it on the record, American officials believe the drone program is the best way to tackle militancy in Pakistan's fraught tribal areas without putting American boots on the ground. The U.S. official in the United States said: "Pakistanis should spend less time criticizing the U.S., which is protecting Pakistan, and spend more time attacking terrorists on their soil. American counterterrorism operations help the U.S. and its allies, including Pakistan. These operations save Pakistani lives."
But Pakistan sees the strikes as a violation of its sovereignty. For years, Islamabad had tacitly accepted the program while publicly criticizing it to reflect Pakistani public opinion, which can be wildly anti-American at times. More recent comments have suggested the strikes are now genuinely unwelcome. On Wednesday a statement from the Pakistani military said that drone strikes "not only undermine our national effort against terrorism but turn public support against our efforts, which remains the key to success."
Civilian casualties from the strikes have caused the rift to widen. An attack in North Waziristan on March 17 killed 44, mostly civilians. After that attack, Pakistani officials demanded the drones be curtailed and the Pakistani chief of staff, Gen. Ashfaq Pervez Kayani, condemned the loss of civilian life. Yet the almost immediate U.S. response to those demands was yet another drone strike on April 13.
Friday's drone attack in North Waziristan killed 17 militants who were planning an attack in Afghanistan, according to a Pakistani intelligence source, who added that five women and three children were also killed.
The growing U.S. impatience with Pakistan's own crackdown on militancy burst into the open earlier in the week during what was supposed to be a fence-mending trip to Islamabad by U.S. Chief of Staff Adm. Mike Mullen.
In an interview that aired Wednesday on Pakistan's Geo TV, Mullen accused Pakistani intelligence of "having a long-standing relationship" with the insurgent group known as the Haqqani network. The network, Mullen said, "specifically facilitates and supports the Taliban who move in Afghanistan, and they're killing Americans."
"I can't accept that and I will do everything I possibly can to prevent that specifically," he said.
A senior Pakistani intelligence official responded pointedly, saying, "We do have a relationship: that of an adversary."
Carl Forsberg, research analyst at the Institute for the Study of War think tank, said it was no coincidence the revelation of the alleged departure of U.S. personnel from Shamsi Air Base came after Mullen's visit to Islamabad.
But he doubted any withdrawal would effect operations. Many strikes have been conducted from closer bases, he said, such as those across the border in eastern Afghanistan.
The southern air base, he said, doesn't appear to be integral to the tribal-area fight and is probably a supporting base. "It's not like the Pakistanis shut down the program," he said.
Friday's drone strike was the 20th this year, compared with 111 in all of 2010, based on a CNN tally, a sign that the pace of drone attacks may be slowing.
CNN's Pam Benson in Washington, Nasir Habib in Islamabad and Joe Sterling in Atlanta contributed to this story.
FOLLOW THIS TOPIC