3 Thai soldiers killed in clashes with Cambodian troops
STORY HIGHLIGHTS
NEW: Authorities evacuate at least 7,000 people as clashes erupt
13 Thai troops are injured and three are killed, the military says
A Thai military spokesman says the cause of the clashes is unknown
The fighting comes more than two months after clashes in another disputed border area
Bangkok, Thailand (CNN) -- At least three Thai soldiers were killed Friday in a new round of clashes with Cambodian troops in a disputed border region, a military official said.
Thirteen other Thai troops were injured, Lt. Col. Siriya Khuangsirikul said.
The fighting broke out near two temples in the Phanom Dong Rak of southeastern Thailand's Surin province, Thai army spokesman Col. Sunsern Kaewkumnerd said.
A Cambodian foreign ministry spokesman could not immediately be reached for comment.

Should U.N. stay out of Thailand dispute?

Thailand, Cambodia clash over temple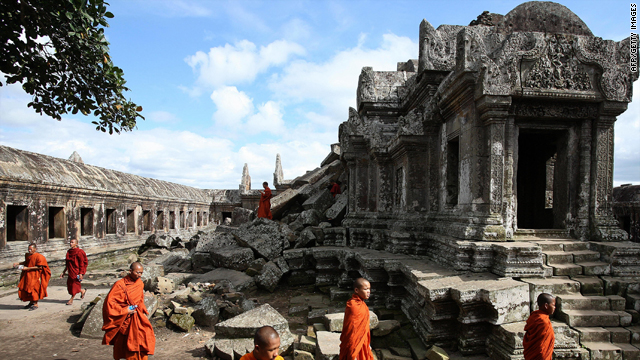 Gallery: Preah Vihear temple
Authorities evacuated between 7,000 and 10,000 residents to temporary shelters as clashes erupted, Ong-art Klarmpaibul of the Thai prime minister's office said in an interview with the Thai Public Broadcasting System.
Sunsern said the cause of Friday's clashes "is not yet known."
At least 10 people were killed when renewed fighting flared up in another disputed border area between the two nations in February, prompting the U.N. Security Council to issue a statement calling on both sides to implement a permanent cease-fire and "resolve the situation peacefully and through effective dialogue."
Those clashes, which lasted four days, stemmed from a longstanding conflict related to the 11th-century Preah Vihear temple. Both Cambodia and Thailand lay claim to the temple, which sits atop a cliff on Cambodian soil but has its most accessible entrance on the Thai side.
At the time, each nation accused the other of firing first, according to a statement from the Association of Southeast Asian Nations.
Conflict over the site has taken place periodically for years. In 1962, the International Court of Justice in The Hague, Netherlands, ruled that the site was in Cambodia, adding that the structure was "an outstanding masterpiece of Khmer architecture."
But Thailand says the 1.8-square-mile (4.7-square-kilometer) area around Preah Vihear was never fully demarcated, and blames a map drawn at the beginning of the 20th-century during the French occupation of Cambodia.
CNN's Kocha Olarn contributed to this report.
FOLLOW THIS TOPIC