STORY HIGHLIGHTS
Men who fought each other in WWII are working together to help families of dead soldiers

Veterans of the battle of Iwo Jima help repatriate souvenirs taken from dead soldiers

Picking souvenirs from bodies on the battlefield was common practice

At the time soldiers did not realize the comfort these items could bring to a dead soldier's family
Atlanta, Georgia (CNN) -- Every society in the world is touched by war. It affects countless individuals; whether or not they know it.
Years before we produced the CNN "World's Untold Stories: Bridging the Pacific," my co-producer and I each were given a school project to interview a veteran.
Because of this, I found out my father's father was in the U.S. Army during World War II. His allergies kept him from going to the front lines, but the rest of his unit went on to fight in Europe. One night, after a soldier gave away their position by lighting a cigarette they were all killed by a shell.
Samantha Weihl, the other producer on this documentary, learned her grandfather was at Pearl Harbor on December 7, 1941. He was on the USS Maryland, playing backgammon on the deck, when the attack began. A bomb landed nearby and exploded both of his eardrums.
It's a credit to our teachers, and maybe a discredit to ourselves, that we learned about our family history through a school assignment. Children don't appreciate their grandparents' stories like adults do. Maybe that's why Sam and I were both drawn to the story of Martin Connor.

Explaining the map of Iwo Jima

Bridging the Pacific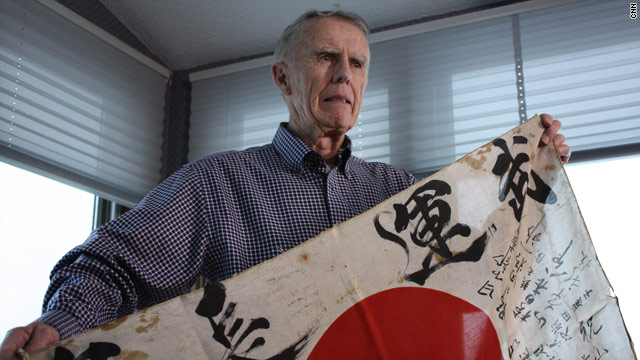 Gallery: World's Untold Stories: Bridging the Pacific
We first met Martin Connor in December of 2010, in Syracuse, New York. He insisted we call him Marty. He graciously opened his home and his life to us.
He told us about spending his first night on Iwo Jima in a foxhole with two men. Neither of them left the island alive.
It was a chilling account of war that was echoed on the other side of the world. While we were working on the American side of this story, Yoko Wakatsuki, a CNN producer in Tokyo, was working on the Japanese side.
Her family was also touched by the war. Yoko's mother's family had to evacuate from Tokyo to Nagano, in central Japan, to avoid intensifying American air raids. Her mother's family had been relatively well-off in Tokyo before the war, but the evacuation drained the family's wealth.
It was Yoko who secured the interview with Japanese Iwo Jima veteran Tsuruji Akikusa. This elderly gentleman shared with us what had to be the worst experience of his life.
Akikusa was stationed in one of the caves on the island. He was injured and trapped in a sauna-like cave breathing outside air through a "finger-sized hole." When faced with death, Akikusa did everything he could to survive.
"I was just scratching my head and eating fleas and louses," he recalled. "And thinking I have no other choice but to die here. I also ate maggots from my wound."
Tsuruji Akikusa and Martin Connor fought on opposing sides of the same brutal, gruesome battle. Neither of them talk about it with much emotion.
Despite his experience, Marty returned to the island of Iwo Jima 25 years later after the battle. He lent us the film he took. There, under the American and Japanese flags, former enemies looked each other in the eyes and shook hands. When we saw it, all we could say was, "Wow."
One of the Americans on the trip had brought back an item from a dead Japanese soldier. Tsunezo Wachi, a former soldier who became a Buddhist monk, contacted the family who traveled for 24 hours to Tokyo to claim it. There Marty realized the significance these items held.
Wachi and Connor began a mission to return war souvenirs. For decades, Marty gathered the items and Wachi returned them. After the death of Wachi, Marty found another Japanese man who could continue his mission, Masataka Shiokawa.
Association of Peace and Mourning: War souvenir repatriation or contact Marty Connor direct at mconnor5@twcny.rr.com
Shiokawa's father fought during World War II, and died on Okinawa less than a year after Shiokawa was born. Instead of a body, his family was given rocks from Okinawa called "soul stones."
For decades, Shiokawa tried to find his father's body, but failed -- a fact that made him break down and cry during his interview with us. Showing emotion like that is very uncommon in Japanese culture.
He shows that same passion for his work with others. He said he cries every time he returns an item to a family.
In 2004, when Shiokawa traveled to Syracuse to meet Marty and his fellow veterans, he was hesitant. These were American soldiers, just like the ones who had killed his father. After he met them, he concluded, "Japanese soldiers and American soldiers fought not because they hated each other, but because they were ordered by their country."
It's hard to imagine veterans of any war would want to shake hands with their enemies, much less return battle souvenirs to their families. Some hold their hatred for life.
For these Japanese and American men, all impacted so greatly by World War II, to forgive each other and work together is remarkable. They have a lot to teach us about forgiveness.
FOLLOW THIS TOPIC