(CNN) -- American documentary filmmaker Alison Klayman, whose feature film "Ai Weiwei: Never Sorry" is set for release this fall, followed the dissident artist over a two-year period between 2008 and 2010, shooting 200 hours of video, traveling to seven countries and 11 cities with Weiwei, interviewing his family, friends, colleagues and fellow artists.
Ai Weiwei is now China's best known detainee.
Arrested by Chinese authorities on his way to Hong Kong on April 3 as a widespread crackdown on dissidents, activists and religious groups rolled across China, Weiwei's Beijing studio was raided and his wife Lu Qing and eight assistants taken into custody for questioning.
The detention and crackdown -- which some commentators believe may have been launched in response to fears over the unrest that has swept the Middle East -- has provided an unexpected coda to Klayman's feature film.

Artistic support for Ai Weiwei

Ai Wei Wei's art thrives in London

Ai Weiwei's friend on the artist's work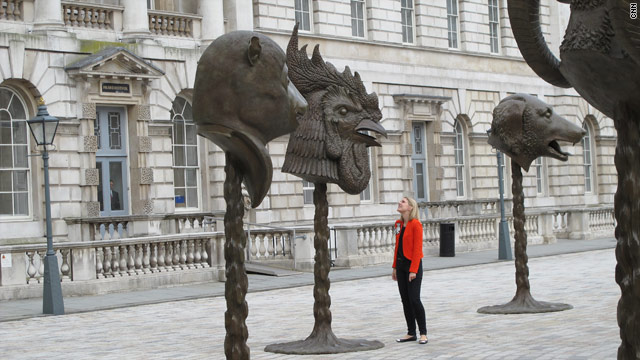 Gallery: Weiwei absent from own exhibition
CNN's Jo Ling Kent caught up with the 26-year-old documentarian as she worked to adapt Weiwei's arrest into her film, and she offered rare insight into the man Beijing seemingly fears.
CNN: What will people who watch this film learn about Ai Weiwei?
It's hard to say what people will learn, as they will all invariably have different preconceptions and knowledge. Here is what they will see: Weiwei is a courageous man who occupies a unique position within China and the world. He acts and speaks at tremendous risk to himself, but his approach is fundamentally creative, transparent and about honoring individual life. The film will take audiences through Weiwei's increasingly tense encounters with Chinese authorities, and it will also reveal the light-hearted side of his life and personality. While it's a film about contemporary China, it's also a story about a 53-year-old artist exploring new methods to communicate and engage with society. The events of the last few years radically transformed Weiwei and his public image. People who watch my film will see how.
CNN: Many people don't know who Ai Weiwei is or they know him as a dissident-artist -- what is it about his personality and his work that you think annoys Beijing so much?
Ai Weiwei occupies a tenuous position vis-a-vis the Chinese government because of his outspoken criticism and irreverent commentary on modern Chinese society. He is not alone in this position and in fact shares it with many human rights lawyers, writers, activists and young people online. A lot of the censorship that happens in China is self-censorship, and I think the fact that Weiwei doesn't engage in self-censorship is a big reason why people gravitate to him. He is also really witty and doesn't take himself or his work too seriously all the time. Consequently, my film also has some very funny moments, because you really couldn't do an accurate profile of Ai Weiwei without a lot of humor.
CNN: What makes Weiwei so different from other artists in China?
In terms of his artwork, Ai's stylistic choices differ substantially from his compatriots on the mainland, but perhaps that is a conversation better left to art historians. In terms of his position in society, his family background differentiates him from other artists and individuals in China. He is also more outspoken than other artists in China, but he is also more outspoken than most people in any profession in China.
CNN: What is his relationship with Beijing? Do you have any anecdotes that illustrate this?
What I think will be surprising to audiences is Weiwei's willingness to engage with and work within the existing legal and governmental structures to affect change. Direct engagement is often the mechanism through which he reveals ineffective governance or failure of specific offices or agencies in fulfilling their duties to the public. That combined with transparency is really his tactic. Just like his earthquake project, or when he went to file complaints about his detention and beating in Chengdu, he was thoroughly documenting his efforts through photos, video and written logs of his actions. All of which were made public online.
One thing he said that stuck with me was something to the effect of, "if you're too afraid to turn on your camera, it's like they have already taken it away."
CNN: What do you think Weiwei is up against? Is his career on the line, does he face indefinite detainment, a choice to leave China forever, execution? Weiwei once told me he'd never leave China.
This is difficult to answer as anything I would say would verge on speculation.
CNN: How did Weiwei deal with state surveillance while you were working with him? Did you ever feel concerned or worried about your own safety?
Weiwei has no problem approaching the people who are watching him and talking to them directly, which always throws them off their game rather than getting him into more trouble. The cameras outside his house always seemed superfluous -- why bother putting a man under surveillance who lives so much of his life in the open, online?
I was never worried about my safety, I just wanted to get it all on tape.
CNN: Do you think the Chinese government actually fears Ai Weiwei?
The most interesting thing is that certain peers of his, mostly artists and filmmakers, would say to me, "You know he's not really that political. Nobody is afraid of him. The government isn't afraid of him." That is a direct quote. In the minds of his colleagues, political means something like you are actually involved in politics or you're a party member. Their view is he's an artist, a mischievous child. That said, he is an important voice and I think people are hopeful that what Ai Weiwei is able to say or do on a blog or twitter, that those things would be a sign that things were getting better in China. The film is really precious now. I couldn't get the same interviews anymore.
FOLLOW THIS TOPIC