Detained Chinese artist allowed visit from wife
STORY HIGHLIGHTS
Controversial artist Ai Weiwei taken into custody by Chinese authorities on April 3
Wife's brief Sunday visit is the first time his family has heard from him, mother says
Wife tells mother-in-law her husband "looked healthy."
Beijing (CNN) -- Ai Weiwei, the detained Chinese artist who five days ago missed the opening of his own exhibition in London, England, was allowed to be visited by his wife on Sunday, his mother told CNN.
The visit by Ai's wife, Lu Qing, marked the first time in 43 days anyone had heard from the artist since Chinese authorities in Beijing took him into custody on April 3, said Gao Ying, Ai's mother.
"I was told he looked healthy," said Gao. "And Lu Qing was very happy to meet him."
Q&A: Is China afraid of Ai Weiwei?
Gao said Beijing police on Sunday afternoon took Lu to an undisclosed location where she was allowed to meet briefly with her husband.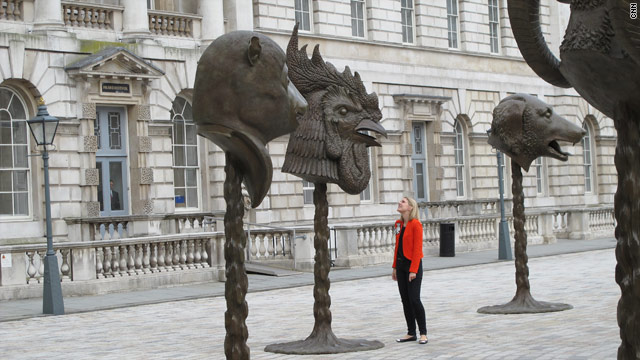 Gallery: Weiwei absent from own exhibition

Ai Weiwei's friend on the artist's work
During their conversation, said Gao, Ai told Lu he was being treated well and was receiving decent food and medical care. However, the couple was not allowed to talk about why Ai is being detained or whether he is being charged with a crime, Gao said. Chinese authorities have said previously that Ai was under investigation for suspected "economic crimes."
Relatives and human rights groups believe Ai has been targeted because of his activism.
Ai is considered to be one of China's most successful and internationally renowned artists. His latest exhibition, "Circle of Animals/Zodiac Heads" opened in London on May 11.
At that event, Katie Hill, senior lecturer in Contemporary Chinese Art at the University of Westminster, who attended the event, said "the most threatening thing about Ai Weiwei is his ability to communicate to very broad audiences, both globally and in China."
"The fact that he has effectively 'disappeared' and been detained," Hill said, "is because of a complete lack of ability to deal with Ai Weiwei on behalf of the Chinese government."
FOLLOW THIS TOPIC