STORY HIGHLIGHTS
Ferrari launches first official dealership in India
China, UAE and Singapore are already key markets
First Ferrari road car came out in 1947, incorporating technology from racing cars
The unique look of a Ferrari is as key to the brand's success as its cutting-edge technology
London (CNN) -- A Ferrari is the ultimate boy's toy -- the status symbol that says: I've made it, but I've still got it.
Now India's burgeoning super-rich are sharing in the dream, with the opening of the country's first official Ferrari dealership in New Delhi.
"We feel that this is the right moment, considering the dynamism of the country and its economy," Ferrari CEO Amedeo Felisa told reporters at the launch Thursday.
"Here in India you feel great enthusiasm and a strong connection to the Ferrari brand, which, even before officially entering India, already had around 50 clients in the country," he added.
The move marks the 58th market for the brand, which has steadily been growing its presence in Asia.
"In the early '90s, Ferrari was mainly (in) the U.S. ... Germany and Italy and the UK maybe," Ferrari chairman Luca Cordero di Montezemolo told CNN earlier this month. "These four countries (were) four key markets and represented 90%.

What makes a Ferrari a Ferrari?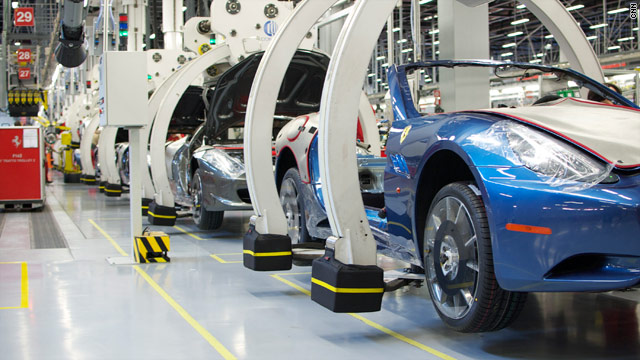 Gallery: behind the scenes ferrari
"Today, we are in the position to have China as the second largest market for Ferrari," he continued. "We have Emirates, we have Singapore, we have Hong Kong, we have now started to (have) India."
The move could reignite debate about the disparity of wealth in a country where, according to the World Bank, 27.5% of the population lives below the national poverty line and 16% do not have access to an adequate supply of clean water.
"There is a big gap between rich and poor, and inequality is increasing," said Dr Tirthankar Roy, a reader in economic history at the London School of Economics.
"But among those who are rich, many of them grew up with a much more modest lifestyle, so when they make money there is a competitiveness about flaunting their wealth to others.
"Ferrari is a global brand, so buying one says, 'I am a global citizen -- I can buy whatever anyone else in the world can buy,'" added Roy.
Since Ferrari produced its first road vehicle in 1947, its cars have inspired a level of adoration from their owners that cannot be explained in mere kilometers per hour.
"When you drive a Ferrari, you don't drive a car, you drive a dream," Montezemolo told CNN.
When you drive a Ferrari, you don't drive a car, you drive a dream.
--Luca Cordero di Montezemolo, Ferrari chairman
"For me the beauty, the design -- the traditional and innovative mix of design -- are actually crucial, together with extreme technologies.
Ferrari plots fast future

"I want a Ferrari (to be) recognized even without the Ferrari brand on it, so if you see this car in New York, in Paris, in Stockholm, in San Paolo, you say, 'This is a Ferrari,'" he added.
The Italian obsession with design means the Ferrari has literally become a work of art -- with models exhibited in the Museum of Modern Art in New York and sold at auction for millions of dollars.
"You buy a Picasso, you buy a Bacon -- and someone wants to buy a piece of Ferrari," said Montezemolo.
Even the new FF model -- a four-seater hatchback for the family man with an inner boy racer -- still captures that special Ferrari spirit, said Montezemolo.
"This is the first Ferrari where you can open the third door, in the back you have ... room for luggage, for four persons in the car," he said. "But again this is a car with all the ingredients of a Ferrari -- extreme performance, driving, power and design."
Key to the brand's appeal is the buyer's ability to personalize everything from the color of the car to the materials used inside it.
Learning the Ferrari lingo

"You have the seats hand-made personally to fit in the car," said Montezemolo. "You can have different colors of the belts, you can have different materials ...You can really personalize every single detail in your car."
Despite producing a global icon, the company has never rested on its laurels, says Montezemolo, but is constantly innovating -- an important lesson he learned from his early days as assistant to founder Enzo Ferrari.
"I learnt basically in the '70s two elements -- first of all to look ahead, always. And second, particularly when you have success, never to be pleased, satisfied, happy, because these are the moments when you have to push for the future," he said. "For me, the best Ferrari is always the next one."
FOLLOW THIS TOPIC