STORY HIGHLIGHTS
Ash cloud from Chile volcano has disrupted flights in Australia and New Zealand
Fine particles in ash can clog up jet engines, potentially causing engine failure
Airlines given hazard advice by Australian aviation authority, but make own decisions on flights
Airlines make different assessments on rerouting flights, which can be costly
(CNN) -- An ash cloud from Chile's Puyehue-Cordon Caulle volcano, which erupted last week, has drifted into airspace over Australia and New Zealand, causing disruption to many commercial flights.
While some airlines have continued to run services, others have suspended operations. Australia's air traffic control provider, Airservices Australia, advises airlines on the hazard posed to aircraft by the shifting ash cloud.
Where has the disruption been most severe?
New Zealand and southern Australia, including Melbourne, Perth and the state of Tasmania. Flight cancellations have left thousands of passengers stranded.
Why is the ash cloud causing disruption to air traffic?

Chile's eruption disruption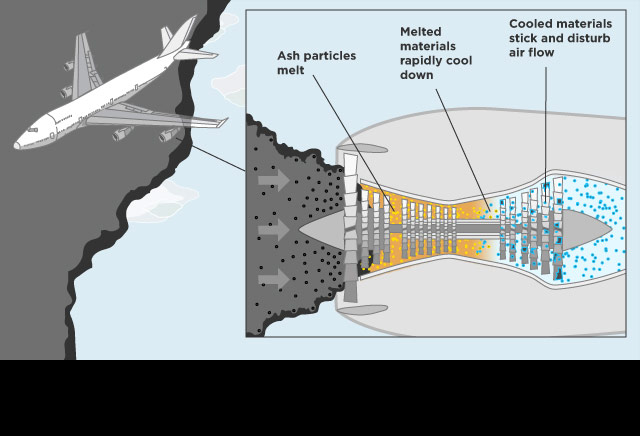 Explainer: How ash affects aircraft engines
The ash cloud is in the upper atmosphere at 20,000 to 35,000 feet. Jets tend to fly above 29,000 feet -- the most fuel-efficient cruising altitude. Flying below the cloud is not considered to be economical.
How does volcanic ash endanger jetliners?
Ash contains fine particles that can to clog up the engines. In extreme cases the engine, which is running at an extremely high temperature, can turn the ash into a substance similar to molten glass and stop the turbine blades from turning. Other issues include the abrasiveness of the dust which can make the windscreen impossible to see out of and strip the paint from the aircraft -- rather like sandblasting.
Some airlines have resumed flights, while others like Qantas cancelled all of its services. Why the disparity between airline policy?
Airservices Australia advise the airlines on where the ash cloud is, based on advisories from the Australian Volcanic Ash Advisory Center so that they can make their own decisions on redirecting or canceling flights.
The Civil Aviation Safety Authority has allowed them to make independent decisions on operating flights, while keeping a close eye on safety. Airlines make different assessments, which may be because they're prepared to alter their routes and fly much longer distances or because their routes are not in the area of the ash cloud anyway.
How long could disruptions to flights continue?
The volcano is still erupting, so it depends on where shifting winds will take the ash cloud. Hopefully, the ash cloud could be swept further south, easing disruptions, but this remains unknown.
How has Air New Zealand been able to continue its services from around New Zealand and across the Tasman Sea?
By working closely with the Civil Aviation Authority (CAA), Metservice and others, the airline says it was able to safely make adjustments to flight paths and cruising altitudes so as to completely avoid the ash and keep providing a safe service to the traveling public.
How is is this done?
In order to avoid the ash, Air New Zealand's domestic services have been operating up to a maximum 5,500 meters, while trans-Tasman flights departing Christchurch and Wellington were given new flight paths heading much further north than normal before crossing the Tasman.
The Metservice has advised that the ash cloud is now much higher and the CAA is comfortable for domestic and trans-Tasman services to continue to operate.
How has the ash cloud affected Australia's national carrier, Qantas?
As of Wednesday, flights to and from Perth, New Zealand and Tasmania were suspended by Qantas. Flights in and out of Adelaide, Sydney, Canberra and Melbourne are to operate as scheduled and flights to and from Johannesburg have been confirmed. Flights to and from Buenos Aires (QF17, QF18) were postponed by 24 hours.
FOLLOW THIS TOPIC