U.S. same sex couple marries in Nepalese Hindu ceremony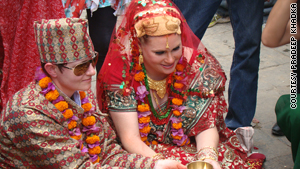 An American lesbian couple married Monday in a Kathmandu temple in accordance with Hindu tradition.
STORY HIGHLIGHTS
Colorado couple says they want to support sexual minorities in Nepal
A government panel is considering same sex marriage
A member says the panel will recommend its legalization
Kathmandu, Nepal (CNN) -- An American lesbian couple married in a temple here in accordance with Hindu tradition on Monday, the couple told CNN.
According to Pradeep Khadka of Blue Diamond Society, a sexual minority rights advocacy group, this is the first same sex marriage in Nepal where a government panel is currently considering legalizing the practice.
Sarah Welton, 48, a lawyer and Courtney Mitchell, 41, a psychology professor are from Colorado.
Mitchell was in Nepal from 1998 to 2003 as a Peace Corps Volunteer and also worked at the United Nations.
"I have always loved Nepal and wanted to bring Sarah here," Mitchell said. "I also wanted to be part of the success of the movement in Nepal for sexual minorities."
In 2007 Nepal's Supreme Court recognized people of the third gender and directed the government to form a committee to explore the possibilities of same sex marriage.
The government two years ago formed the committee, and it is in the final stages of preparing its report. According to a member of the committee, it will recommend the government to legalize same sex marriage.
"We decided to do it in Hindu tradition because there are instances of Hindu gods of same sex marrying," said Mitchell.
It is an inclusive ceremony where the gods are honored, she added.
She said that both of them are Christians but non-practicing ones.
Mitchell said that they have filed papers for domestic partnership in Colorado and are thinking of getting married in Iowa which allows same sex marriage.
Although they are yet to be legally married Mitchell said, "We feel that our marriage is 100% official."
"I am very excited today," Mitchell said. "We are very happy to be married."
Asked how she felt, Welton said she was made to feel very welcome and felt "fabulous."
Welton said that their marriage was also an example for sexual minorities in Nepal.