Blast kills 3 outside home of Pakistani anti-Taliban militia member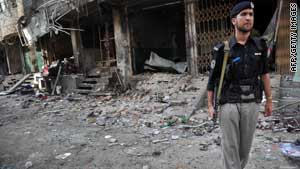 (file photo) A Pakistani policeman stands guard at the site of a bomb blast that hit Peshawar on June 12, 2011.
STORY HIGHLIGHTS
Witnesses saw man park car outside militia member's home on outskirts of Peshawar
A child and two guards were killed in the blast; apparent target was uninjured
Militant groups in northwest Pakistan targeting members of anti-Taliban militia
(CNN) -- A bomb blast targeting the home of a volunteer anti-Taliban militia member in northwest Pakistan on Monday killed three people, including a child, police told CNN. The apparent target of the attack was not injured.
Police official Muhammad Ejaz Khan said the remote-control bomb exploded in Matni, an area on the outskirts of Peshawar. Witnesses saw a man park a car in front of the militia members home and walk away, said Hukam Khan, an official with the Peshawar Bomb Disposal Squad.ha
Moments later the car exploded, Khan said.
Along with the child, two of the militia member's guards were killed. In the past year, militant groups in northwest Pakistan have increasingly targeted members of pro-government, anti-Taliban militias who've banded to protect their turf from the Taliban.
The Taliban have claimed responsibility for most of the attacks, but it wasn't clear who was behind Monday's explosion.
Journalist Nasir Habib contributed to this report.
FOLLOW THIS TOPIC