STORY HIGHLIGHTS
Indonesian domestic helper Rosnani Matsuni says she suffered years of abuse abroad
She says her employers in Persian Gulf ignored her human rights and she was beaten
Indonesia imposed moratorium on sending workers to Saudi Arabia after worker executed
Matsuni is pleased moratorium but sees a need to create new jobs at home
(CNN) -- Indonesian domestic helper Rosnani Matsuni holds traumatic memories from her years working abroad, claiming she was beaten, threatened with her life and "treated like an animal" by her employers.
Having worked for most of the past decade in and around Saudi Arabia, she identifies with the case of fellow Indonesian migrant worker Ruyati bin Satubi, who was executed there by beheading on June 16 for killing her employer's wife, who she says abused her.
Saudi Arabia is suspending the issuance of visas to domestic workers from Indonesia starting Saturday, the latest move in a tit-for-tat game of economics and human rights. The statement came days after the Indonesian government declared it will refuse to allow its citizens to go to Saudi Arabia until human rights conditions there improve. Indonesia issued its moratorium policy, effective August 1, after the Gulf kingdom beheaded Satubi.
Saudi Arabia suspends visas to Indonesian domestic workers
The case puts the spotlight on migrant Indonesian domestic helpers like 48-year-old Matsuni, who first left her home in Banjarmasin, Kalimantan for Saudi Arabia in 2001. She shuttled between the states of the Persian Gulf and Indonesia after leaving home five times --- each time hoping for better luck with a new placement.

Tom Donilon on Saudi-U.S. relations

Indonesian govt. reacts to execution

Indonesia' example to Middle East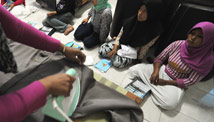 Fighting for rights of workers
During these stays, she worked for five different employers, each of whom she says ignored her basic human rights. "At first they treat us like kings but as days pass, they change," she said, "They treat us like slaves and things that they think they can buy".
Matsuni explains that in 2009 she traveled to Abu Dhabi, United Arab Emirates, to seek work. Once there, she was immediately transferred to Al Ain, a smaller city 160 kilometers east of the capital, where she found the work too demanding.
After ten days, Matsuni quit her job and was subsequently sold by the agency that brought her to the Middle East to another employer so they could recoup their expenses.
"It was like a shop. There was a glass window and prospective employers would look through. If you're picked, only then can you go out to talk to them. If you get along, then you can go with them. If not, you can't leave [with the prospective employer]," Matsuni said, when asked to recall where she was sold.
Matsuni was brought and taken to Oman, where she lived for the next two years. It was there that she says she endured her worst treatment. "I was treated like an animal, forced to work 22 hours every day. I only had time to eat or pray. I was beaten up all the time," she said.
She says her employer withheld her passport and confiscated her phone SIM card so she couldn't contact her family and threatened to kill her when she asked to leave. Upon reaching her breaking point, Matsuni paid for her own return to Jakarta in April 2011.
Matsuni now lives in a shelter run by Migrant Care in East Jakarta, a non-governmental organization that provides temporary shelter to returning workers. She spends her days waiting to receive health insurance payments owed to her by the agency which sent her abroad. She is still under medical treatment for a neck injury she claims she sustained after being beaten by her last employer.
At the shelter she engages in English lessons provided by volunteers and shares the company of other Indonesians who have returned following mistreatment abroad.
I was treated like an animal, forced to work 22 hours every day. I only had time to eat or pray.
--Rosnani Matsuni, domestic helper.
She has monitored the government's reaction to the sudden, unannounced beheading of Ruyati in Saudi Arabia. Not wanting any migrant worker to suffer the way she did, Matsuni was pleased when Indonesian President Susilo Bambang Yudhoyono announced the decision to impose a moratorium on sending workers to Saudi Arabia, effective August 1st 2011.
Indonesia stops sending workers to Saudi Arabia
At the same time, she sees a need to create new jobs at home, believing that there would not be the same incentive to work abroad if steady work with good pay was available within Indonesia.
Indrayana Samaan, 34, another migrant worker now living in the shelter shares the view on the need to create jobs at home. Samaan was severely burned during a freak accident while working at a plywood factory in Malaysia in 2005. After more than a year spent recovering in wards ill-equipped to treat his injuries, he found that his injuries precluded him from continuing work in Malaysia and accepted an offer of 32,000 Ringgit (US$10,500) in compensation.
Needing most of that money to pay for hospital bills and food for his child, he now awaits additional compensation and help from the government to find stable work. That assistance may be on the way. On June 27 2011, Coordinating Minister for the Economy, Hatta Rajasa, announced the Indonesian government plans to spend 1.4 trillion rupiah (US$162.5 million) to create more jobs.
This may ease the effect of the moratorium, which the National Development and Planning Agency estimates will see the loss of 90,000 to 120,000 overseas jobs in 2011. The funds are dedicated to providing educational programs for women most likely to be affected by the moratorium.
Anis Hidayah, executive director of the migrant worker advocacy agency Migrant Care, told CNN that she was pleased with the government's decision to stop sending workers to Saudi Arabia but expressed a need for serious action beyond the creation of task forces given the responsibility of monitoring migrant worker protection overseas.
"Right now, Indonesia should use the momentum to immediately create a foundation of policies related to the protection of migrant workers. One of the possible ways to do this is the immediate ratification of international human rights organizations that are connected to the protection of migrant workers, whether it's the U.N. or even the ILO (International Labour organization)" Hidayah said.
"If this case of Ruyati passes and isn't used as momentum to improve policies in a serious manner, Indonesia will never be able to escape from its miserly migrant workers issues."
Though reform has yet to reach the level suggested by Hidayah, early signs indicate that serious steps are being taken. Residents of the small shelter in East Jakarta will be hoping that these steps come to include helping those who have already paid a hefty price for the abuse they say they endured abroad.
FOLLOW THIS TOPIC