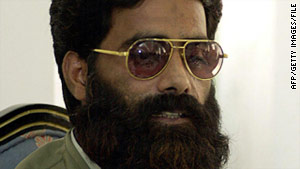 Most-wanted terrorist Ilyas Kashmiri has been declared dead before, only to resurface.
STORY HIGHLIGHTS
Ilyas Kashmiri headed his own terrorist group and was a senior figure in al Qaeda
U.S. officials are "99% sure" he was killed in a drone attack, a senior official says
Kashmiri was considered the military brain of al Qaeda
(CNN) -- U.S. officials are increasingly confident that one of the most-wanted terrorists in the world was killed early last month in a drone attack in Pakistan.
Ilyas Kashmiri was a senior figure in al Qaeda and operated his own terrorist group, Harakat-ul-Jihad-Islami (Movement for an Islamic Holy War).
One senior U.S. official said they were "99% sure" that the drone attack -- on a remote location in the tribal territory of South Waziristan in Pakistan -- had eliminated Kashmiri. But the official added that "the folks that make that determination aren't ready to say so definitively."
Another official said there was "strong reason to believe that he's dead" but would not elaborate.
One reason for caution is that the shadowy Kashmiri was once before declared dead, only to resurface and give an interview that threatened "Mumbai-style" attacks in the West.
Early in June, Kashmiri's group said he had been killed by a drone strike late at night while traveling in a convoy. Pakistani officials said nine people were killed in the attack but did not identify Kashmiri as one of them.
Kashmiri was a veteran jihadist who in his early years fought Indian forces in the disputed territory of Kashmir and fought the Russians in Afghanistan, where he lost an eye.
But he later fell out with his sponsors in the Pakistani military. At one point, he was arrested in connection with an attempt to assassinate Pakistan's then-president, Gen. Pervez Musharraf, in 2003. After his release, Kashmiri moved his base of operations from Pakistani Kashmir to North Waziristan.
As commander of Brigade 313, part of Harakat-ul-Jihad-Islami, Kashmiri formed a close relationship with al Qaeda in the wild frontier territory of Pakistan.
David Coleman Headley, the U.S. citizen who confessed to helping scout targets for the Mumbai attack in November 2008, said after his arrest that he had twice met Kashmiri. During questioning by India's National Intelligence Agency, Headley said he'd been taken to Pakistan's tribal territories to meet Kashmiri early in 2009.
A copy of the interrogation obtained by CNN reveals that Kashmiri sent Headley on another trip to survey targets in India. One place he said he videotaped was a bakery in Pune that was popular with tourists and that was later targeted in a bomb attack.
He also said Kashmiri had encouraged him to attack the offices of the Danish newspaper that published cartoons of the Prophet Mohammed. According to the indictment of Headley, Kashmiri told him he could "provide manpower, weaponry and funding for the Denmark operations."
Last year, intelligence sources on both sides of the Atlantic said they suspected that Kashmiri was trying to get teams into Europe that would launch coordinated Mumbai-style attacks in several cities. In the attacks on hotels and other targets in Mumbai at the end of 2008, gunmen raided several buildings simultaneously, leaving 164 people dead.
One of the few outsiders to meet Kashmiri was Islamabad reporter, Syed Saleem Shahzad, who was murdered in May. He wrote that was taken to a secret location in North Waziristan in October 2009 to meet Kashmiri, who apparently wanted to use the occasion to refute claims that he'd been killed in a drone strike near the town of Mir Ali the previous month.
Shahzad describes meeting a tall, well-built man with a firm handshake. He asked him whether the world could expect more "Mumbai-style" attacks.
"That was nothing compared to what has already been planned for India in the future," Kashmiri replied.
In his book "Inside al Qaeda and the Taliban: Beyond bin Laden and 9/11" -- published days after his death -- Shahzad said Kashmiri was behind the Mumbai attack. He wrote that Kashmiri's plan was to provoke India to attack Pakistan, instantly ending any Pakistani operations against al Qaeda and other militant groups.
One man alleged to have sought out Kashmiri is Chicago taxi driver Raja Lahrasib Khan, who travelled to Pakistan in 2008 and 2009. He was arrested last year and charged with attempting to provide support to al Qaeda. Court documents say Khan met Kashmiri, who had told him that he "wanted to train operatives to conduct attacks in the United States."
Khan told an unidentified co-conspirator that Osama bin Laden gave orders to Kashmiri, and then Kashmiri transmitted the orders to the mujahedeen.
Khan pleaded not guilty to the charges against him.
While bin Laden was al Qaeda's "spiritual" leader and Egyptian cleric Ayman al-Zawahiri its philosopher, Kashmiri was the organization's military brain. As one U.S. official put it, Kashmiri was "the key ingredient in the bad stew of senior terrorists who are planning operations in the region and beyond."
This time, U.S. officials are hoping that reports of his death are not much exaggerated.
CNN's Pam Benson contributed to this report.
FOLLOW THIS TOPIC