44 schoolboys die in Bangladesh road accident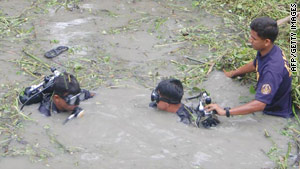 Scuba divers search for bodies in a canal Monday after a truck crash in Bangladesh's southeast Chittagong district.
STORY HIGHLIGHTS
Boys, aged 10 to 13, were returning from soccer tournament
Death toll of 44 may rise, officials say
Truck they were traveling in skidded off a highway and plunged into a canal, police said
Dhaka, Bangladesh (CNN) -- At least 44 schoolboys were killed and many more injured Monday when the truck they were traveling in skidded off a highway and plunged into a canal in southeast Chittagong district, 250 kilometers (155 miles) from Bangladesh's capital of Dhaka, police said.
The boys, aged 10 to 13, were from the Mirsarai sub-district of Chittagong and were returning to their villages from a soccer tournament early in the afternoon.
"We've confirmed 44 deaths so far, and the death toll might rise," Faiz Ahmed, deputy commissioner of Chittagong, told CNN.
Faiz Ahmed, who is the administrative chief of the district, said the open truck was carrying about 70 students of Abu Tarab Government Primary School and Anjuman Nessa Government Primary School.
Mirsarai police station chief Iftekher Hassan said divers from the Bangladesh Navy and Fire Service and Civil Defense continued the rescue operation until Monday evening, recovering 27 bodies, and five others died at Chittagong Medical College Hospital.
Villagers recovered 12 more bodies were from the nearly 6-foot-deep canal.
At least 15 students were admitted to the hospital in serious condition.
The children from Abu Tarab Government Primary School were singing and dancing on the truck, as their school won the match by two goals, according to witnesses.
"Nothing could be ever the same for the three villages here where so many children die at a time. ... You can hear the sound of crying from almost every house," a journalist based in Chittagong told CNN.
Bangladesh President Zillur Rahman and Prime Minister Sheikh Hasina have expressed their deep condolences.
Road accidents are very common in Bangladesh, where an estimated 12,000 people die every year in traffic accidents. Reckless and inept driving, poor road conditions and old vehicles are the reasons most often cited for the high rate.
FOLLOW THIS TOPIC