Gunmen abduct 2 Americans in Philippines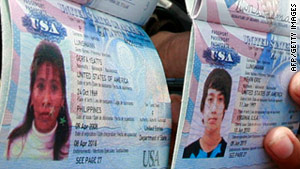 Police show the U.S. passports of Gerfa Yeatts Lunsmann and her son, Kevin, 14, who were kidnapped with a relative.
STORY HIGHLIGHTS
The two Americans were abducted with a Filipino relative
The three were forced onto awaiting boats, police say
They headed toward Basilan, a stronghold for militants
(CNN) -- Gunmen abducted two American citizens along with their Filipino relative from a southern Philippines island Tuesday, police said.
At about 3 a.m., 14 armed men snatched Gerfa Yeatts Lunsmann, 43, her son, Kevin, 14, and Lunsmann's Filipino nephew, Romnick Jakaria, 19, said Nonito Asbai, the area's police chief inspector.
Police and the Filipino navy have launched search operations, Asbai said.
The victims were forced at gunpoint to board awaiting boats, which then sped toward the troubled island of Basilan, a stronghold of the Islamic militant group Abu Sayyaf.
No one, however, has claimed responsibility for the abduction or asked for a ransom.
Jakaria's cousin, Alma Jakaria, said Lunsmann was adopted by Americans when she was 9 and grew up in Virginia. She married a German citizen and had her son, Kevin. Both she and Kevin are U.S. passport holders.
Police suspect the son attracted attention because of his distinctive mixed-race looks in an area with few foreign tourists.
The three were vacationing in Tictabon and were supposed to have returned to the capital, Manila, later Tuesday, Alma Jakaria said.
Basilan serves as a base for Abu Sayyaf, which wants to establish a separate state for the Philippines' minority Muslim population. The U.S. State Department considers it a terrorist organization and says it is linked to al Qaeda. The Philippine government has been fighting to contain the militants.
Abu Sayyaf has been blamed for terrorist attacks in the Philippines, including the 2004 bombing of a ferry that left about 130 people dead as well as past kidnappings.
CNN affiliate ABS-CBN's Queenie Casimiro contributed to this report.
FOLLOW THIS TOPIC