STORY HIGHLIGHTS
Darsem binti Dawud Tawar sentenced to death in 2009 by Saudi court for alleged murder
She claimed it was self-defense after relative of her employer allegedly tried to rape her
Man's family pardoned her from death penalty in return for $533,000 compensation
Indonesia seeks more rights for migrant workers after cases of abuse
Clarification: This story has been updated to make it clear that the Indonesian government paid the compensation necessary to secure the maid's release, rather than supporters.
(CNN) -- Just three weeks ago, Darsem binti Dawud Tawar was facing execution by beheading in Saudi Arabia for murder, which she claims was an act of self-defense. Now, finally back home in Indonesia, she is a free woman -- after the Indonesian government paid more than $500,000 in "blood money."
Holding her young son tightly, as she faced the glare of the media, Darsem was reunited with her family on Wednesday at the Indonesian Foreign Ministry in Jakarta. She first left her West Java hometown for a job as a maid in the Middle East in 2006, when her son was just a baby.
Darsem's pardon followed the recent beheading of another Indonesian maid convicted of murdering her employer in Saudi Arabia.
In May 2009, a Riyadh court sentenced Darsem to death for murdering a relative of her Yemeni employer in Saudi Arabia. She claimed she acted in self-defense, after he allegedly tried to rape her.

Indonesian govt. reacts to execution

Indonesia' example to Middle East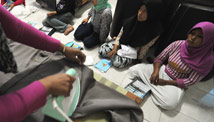 Fighting for rights of workers
Earlier this year, the dead man's family agreed to pardon her so long as she paid them compensation, known as diyat or "blood money."
The Indonesian government offered to pay the required compensation of 2 million riyals ($533,000).
Indonesia's Foreign Ministry says the diyat was paid on June 25 to the family through the courts. A day later, Riyadh's Vice Governor Prince Satham Abdulazis signed Darsem's release papers, and she was able to return to Indonesia on Wednesday.
Another Indonesian maid working in Saudi Arabia, Ruyati binti Sapubi, was executed on June 16. Her beheading caused public outrage in Indonesia and a diplomatic protest when Saudi Arabian authorities failed to inform Indonesia about the date of her execution.
The Indonesian government announced a full moratorium on sending workers to the Gulf kingdom, demanding an agreement be first signed to ensure the protection of workers' rights.
Indonesia stops sending workers to Saudi Arabia
It was to take effect on August 1 but a month before that, Saudi Arabia announced its own ban, halting the issuance of visas to domestic workers from Indonesia and the Philippines.
Migrant workers' rights groups have long demanded better working conditions and protection for more than a million Indonesian workers in Saudi Arabia.
Indonesian migrant worker endured years of abuse
Indonesian Foreign Ministry Spokesman Michael Tene said the two sides held meetings in Saudi Arabia on July 11 and 12 on this issue.
While talks are at an early stage, Tene said Indonesia is hopeful a memorandum of understanding could be signed this year with stipulations for improved rights and conditions for workers, enabling them to again work in Saudi Arabia.
Tene also said government efforts continue to ensure that all legal avenues are exhausted and assistance is given to all other Indonesians on death row, not only in Saudi Arabia, but also in other countries.
After Ruyati's execution, Indonesian President Susilo Bambang Yudhoyono created a special task force from the Ministries of Foreign Affairs and also Manpower and Law and Human Rights to focus on protecting Indonesian migrant workers. On Thursday, Yudhoyono announced that a government team, part of the task force, had been dispatched to Saudi Arabia.
CNN's Greg Hughes contributed to this report.
FOLLOW THIS TOPIC