Weekend violence in Uyghur region kills 14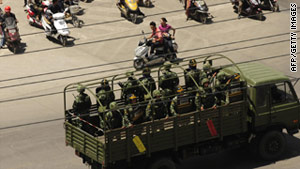 Chinese troops were deployed to patrol the streets of Kashgar, in the restive Xinjiang region in 2009.
STORY HIGHLIGHTS
Police shoot suspects after a deadly blast on Sunday in the city of Kashi
Sunday's violence follows a knifing spree in Kashi on Saturday
Fourteen people were killed and 38 others were wounded in the two incidences
China's Uyghur region was the site of ethnic violence in 2009 that killed nearly 200
Beijing (CNN) -- A blast in a northwest China city killed three people Sunday afternoon, state media reported. Police subsequently shot and killed four suspects and arrested four more.
Sunday's violence in the city of Kashi in China's Xinjiang Uyghur Autonomous Region followed a knifing spree Saturday in the same town that killed seven people, bringing the total death toll in weekend violence to at least 14, according to Xinhua state news agency.
The province of Xinjiang has seen tension between China's Uyghur, a Turkic ethnic population of Muslim faith, and ethnic Han Chinese, which lead to violence in 2009 that killed nearly 200 people and injured 1,800 others.
Kashi -- as the city is called in Chinese -- is also known as Kashgar in the Uyghur language.
Saturday's knifing spree started when two men stabbed a truck driver, took control of the vehicle and drove into pedestrians, Xinhau reported. The men the hopped out of the truck and attacked bystanders before locals subdued them.
One suspect was killed in the fighting, the other apprehended.
Sunday's blast injured 10 more people, according to Xinhua, citing local police. Twenty-eight people were wounded in Saturday's stabbings.
The violence comes less than two weeks after an attack on a police station in another town in the same region that killed four people, including two police officers.
FOLLOW THIS TOPIC