STORY HIGHLIGHTS
Afghan spies had leads 4 years ago on area close to where bin Laden was hiding
Then-Pakistani President Musharraf allegedly refused to take action, Saleh says
Amrullah Saleh said his network of spies in 2007 uncovered al Qaeda safe houses
Saleh claims President Karzai is pressing for a deal with the Taliban "at any cost"
Kabul, Afghanistan (CNN) -- Afghan spies had intelligence leads four years ago that pointed to an area close to where Osama bin Laden was hiding, according to Afghanistan's former spy chief.
But Pervez Musharraf -- then Pakistan's president -- refused to take action despite receiving detailed reports, said Amrullah Saleh.
CNN cannot independently confirm Saleh's account and Musharraf could not be immediately reached for comment, though he has long denied having knowledge of bin Laden's whereabouts.
But Saleh said his network of spies and informants had in 2007 uncovered al Qaeda safe houses deep inside Pakistan believed to be connected to the once-elusive al Qaeda leader, and that the former Pakistani president had disregarded those reports.
"We did a lot of work in the tribal areas of Pakistan... going village to village, recruiting random informants," Saleh told CNN.
"We came to the conclusion that bin Laden was not in the tribal areas."
The former spy chief said he then directed intelligence sources to Pakistan proper, identifying al Qaeda safe houses in a town called Manshera, a short drive from what turned out to be bin Laden's lair.
Saleh said the intelligence reports provided good information, though not what he considered to be "actionable intelligence."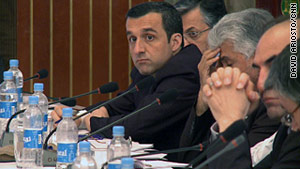 Afghanistan's former Intelligence Chief Amrullah Saleh said former Pakistani President Pervez Musharraf refused to take action on Osama bin Laden reports.
But when he mentioned them during a meeting with Musharraf and his Afghan counterpart Hamid Karzai, Musharraf became "very angry," he said.
The former Pakistani president also "refused to take action, or at least do a random street-to-street check of that area," he recalled.
Saleh's account, first reported by The Guardian newspaper, underlines what he describes as "the Pakistan establishment" in support of the insurgency.
He said U.S. officials were "well aware of both our views and intelligence on Pakistan."
U.S. President Barack Obama has called Pakistan "a strong counterterrorism partner," but also acknowledged that the relationship has not been without problems.
Global Public Square: What did Pakistan know?

In June, the United States suspended $800 million in military aid after Pakistan expelled U.S. trainers.
For Saleh, the move was overdue.
The former head of Afghanistan's National Directorate of Security presided over the country's main intelligence gathering agency from 2006 to 2010, quitting his post last year over disagreements with President Karzai, whom he later accused of being "too soft" and "too appeasing toward the enemy."

The last seconds of bin Laden's life

Al Qaeda on the brink of collapse?
With the NATO drawdown and transition to national security forces now underway, Saleh says President Karzai is pressing for a deal with the Taliban "at any cost."
Karzai's office declined an interview request and could not be immediately reached for comment, but has long called for talks with Taliban leadership to end the decade-long conflict.
The Afghan president -- according to Saleh -- has engaged in "a number of secret talks" with the head of Pakistan's powerful Inter-Services Intelligence agency, while also meeting with senior Pakistani leaders in an "unprecedented" amount of exchanges.
The former spy chief -- who many in Islamabad consider to be anti-Pakistani -- says President Karzai does not trust NATO following Afghanistan's 2009 presidential elections.
In that year, the incumbent president acquiesced to international pressure to hold a run-off election, following a ballot scandal wracked with allegations of corruption and electoral fraud.
A United Nations-backed review invalidated nearly one third of Karzai's votes because of "clear and convincing evidence of fraud."
In what Saleh has since described as the president's "contingency plan," he said Karzai is now working in greater collaboration with Pakistan's ISI -- an agency that he says provides safe haven to insurgent leadership.
"To capture (Afghan Taliban leader) Mullah Omar and bring him to justice, they don't need a military operation," Saleh said. "He is with them."
Saleh said that during his time in government he brought "actionable intelligence" regarding the whereabouts of both Omar and al Qaeda's new leader, Ayman al-Zawahir.
He maintains that both men remain in Pakistan, and that the U.S. military "surge" has "failed" to provide stability to the region because of a lack of Pakistani cooperation.
America's highest ranking military officer, Adm. Mike Mullen, recently offered a more positive analysis of the influx of 33,000 additional troops, who are set to be to departing by the end of next year.
"Violence and intimidation are generally down across the Helmand Valley and Kandahar," the chairman of the Joint Chiefs told reporters in Kabul. "The Taliban has been pushed out or refused access to larger swaths of territory."
But as NATO and Afghan forces ratchet up attacks on insurgent groups along the country's restive southern and eastern provinces -- which border Pakistan -- its unclear how those attacks will affect reconciliation efforts.
Former U.S. Defense Secretary Robert Gates said in June that preliminary talks with the Taliban were underway.
But its also unclear whether those talks can provide for a political process that integrates Taliban leadership within the existing constitutional framework, or instead, will result in a more basic power-sharing agreement.
For Saleh -- who fought against the Taliban during the civil war of 1990s -- it seems to be the very question that may help determine governance of his country.
He says if the Taliban are permitted to return as a "Hezbollah-like entity" -- a reference to the Shia militant group and political party based in Lebanon -- then he and his anti-Taliban constituency must "rise up" against them.
FOLLOW THIS TOPIC