Police: North Korean hackers targeted South Korean game sites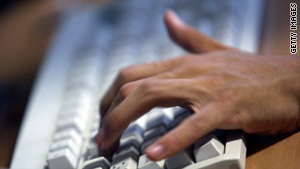 South Korea has experienced a wave of cyber attacks over the past two years.
STORY HIGHLIGHTS
S. Korean police arrest 5 men for alleged involvement in hacking online game systems
N. Koreans allegedly hacked the systems to discover how to cheat the operations
They created programs to play online games and obtain virtual items to sell for cash on Internet
Pyongyang denies responsibility for a wave of cyber attacks that have targeted S. Korea
Seoul, South Korea (CNN) -- South Korean police arrested five men Thursday for allegedly collaborating with North Korean computer experts to hack into online game systems to generate millions of dollars in illicit gains.
Their investigation, which was conducted with the country's National Intelligence Service, exposed an elaborate operation in which South Koreans invited North Korean computer hackers to China to create programs that automatically play popular online games and accumulate virtual items that were later sold for cash on the Internet.
The police believe these programs, known as auto-programs, were developed by hacking into South Korean online game companies to work out how to write them to cheat their operations, according to the Seoul Metropolitan Police Agency.
South Korea has experienced a wave of cyber attacks on government, business and military websites over the past two years. Seoul has fingered North Korea for the attacks, a claim Pyongyang denies. There is rising concern about Internet security in the South as experts point to the vulnerabilities of one of the most wired countries in the world.
Police say their investigation into the gaming scheme points to the possibility of North Korea using online gaming as another tool to penetrate South Korea's computing systems.
The five men held over the illicit gaming operation allegedly invited the North Korean computer specialists to China as normal business partners and provided them with board and stipends while engaging them in developing the auto-programs, according to police.
The operation began roughly two years ago and has generated more than 6.4 billion won (US$6 million) over the span of a year and a half, according to the police.
Once invited, the North Korean computers experts, mostly graduates from top-ranking North Korean universities, stayed for roughly five months in China before returning to their home country.
They received compensation for developing auto-programs and were expected to wire a monthly fee of US$500 back to Pyongyang, according to the police.
Some of them work for the North's leading IT agency Korea Computer Center (KCC), while others operate under a trade company that is known to be involved in raising and managing funds for North Korea's leader Kim Jong Il, according to the investigation report.
"We have to some extent confirmed through the statements of the suspects that North Korea is mass mobilizing computer experts for hacking, and that they are heavily involved in cyber crimes," according to the police investigation report.
The police called on South Korean online game companies to boost their security systems in the face of North Korea's increasing hacking capabilities and potential for conducting cyber attacks in the South.
FOLLOW THIS TOPIC