STORY HIGHLIGHTS
Anna Hazare, 74, has been on a hunger strike since August 16
His fast is to press for the creation of an anti-corruption institution
He ends his hunger strike by sipping what appears to be fruit juice
Officials did not give a timeline for setting up Lokpal
New Delhi (CNN) -- An Indian anti-corruption activist ended his hunger strike Sunday, a day after parliament resolved to accept his demands to tackle chronic corruption in the country.
Anna Hazare, 74, has been fasting since August 16 to press for the creation of a powerful anti-corruption institution called the Lokpal.
He ended his hunger strike by sipping what appeared to be fruit juice from a steel tumbler.
Prime Minister Manmohan Singh on Saturday wrote a letter to Hazare, relaying parliament's resolution on the 12th day of his hunger strike.
After receiving the letter, the activist described the legislature resolve as a "people's victory."
Political tension had been building as the hunger strike lengthened.
Talks stalled between the government and his supporters as the strike entered its 10th day Thursday.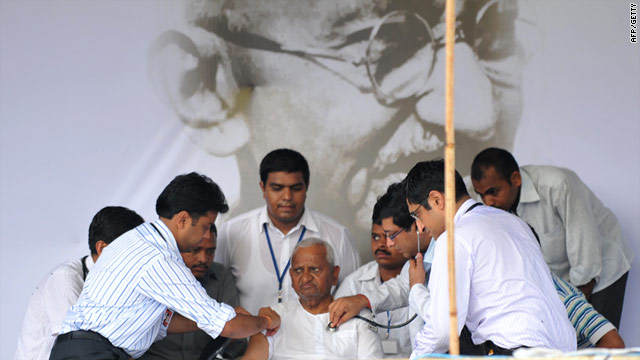 Gallery: Indian corruption fighter
Hazare urged supporters to shun violence in their quest to get a bill aimed at setting up a Lokpal or citizen ombudsman.
The prime minister also urged Hazare to end his hunger strike and pledged that a compromise could be found.
However, it is unclear when parliament will pass the Lokpal bill.
In a letter this past week, Singh said that fighting corruption is a common objective.'
"I have maintained that your and our object is identical ... to reduce significantly, if not eliminate, the scourge of corruption from this country," Singh wrote. "At worst, our paths and methodologies may differ, though I do believe that even those differences have been exaggerated."
"The government is committed to passing a constitutionally valid and the best possible Lokpal legislation with inputs from civil society with the broadest possible consensus," Singh said in the letter posted on the government's website.
The hunger strike had its critics.
On Friday, India's Rahul Gandhi warned lawmakers not to allow the nation's democracy to be undermined, an apparent criticism of Hazare's protest methods modeled after tactics of the country's independence leader, Mahatma Gandhi as he fought the colonial rule.
Rahul Gandhi, 40, is the general secretary of India's governing Congress party, and his Italian-born mother, Sonia, heads that party.
Three of his ancestors -- Jawaharlal Nehru, Indira Gandhi and his father, Rajiv Gandhi, have served as the country's prime minister in the past.
His remarks came after Hazare's public fast entered the 11th day.
"Individuals have brought our country great gains. They have galvanized people in the cause of freedom and development. However, we must not weaken the democratic process," Gandhi, who is regarded by some Indian media outlets as a future prime minister candidate, told parliament in a speech.
He thanked Hazare for articulating what he called larger public disillusionment with a system plagued by massive corruption.
But in his address to the people's assembly, he expressed caution about elected institutions being pressured.
"This (democratic) process is often lengthy and lumbering. But it is so in order to be inclusive and fair. It provides a representative and transparent platform where ideas are translated into laws," Gandhi said.
"A process divorced from the machinery of an elected government, or this house, that seeks to undo the checks and balances created to protect the supremacy of parliament sets a dangerous precedent for a democracy," he told the lower chamber of elected lawmakers.
Echoing the prime minister's views that any institution alone cannot eradicate deeply entrenched corruption, Gandhi described the proposed Lokpal as just one tool in the fight against graft.
Before Hazare broke his hunger strike, his key aide also acknowledged one law would not be sufficient to handle corruption.
The aide, Arvind Kejriwal, delivered a public pledge not to give or accept bribes.
FOLLOW THIS TOPIC