Where in the world ... ?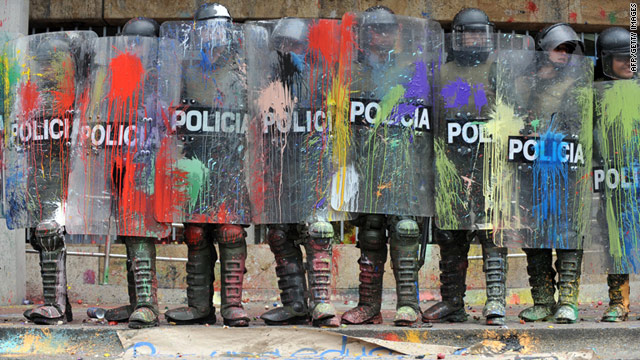 STORY HIGHLIGHTS
Do you know where this photo was taken?

CNN will post a new photo each Monday morning and reveal the answer later that day

The photo might be related to a recent story -- or it could just be something unusual we found
(CNN) -- [Updated 3 p.m. ET, Monday, September 19] Riot police in Bogota, Colombia, block paintballs during street demonstrations September 7.
Thousands of Colombians -- in Bogota and other major cities -- were protesting the federal government's proposed reforms to higher education.
One of the more controversial proposals being discussed is the use of private funds in the public university system. The government says it would improve professors' salaries and make the universities more competitive. Some critics think it would do just the opposite.
Congrats to "cmattbishop" and "ningit" for being the first to correctly answer Colombia in our photo challenge.
[Original post] Do you know where this photo was taken?
If you think you know the answer -- or if you just want to take a wild guess -- post it in the comments area below. Later in the day, we'll reveal where the photo was taken and give credit to those who figured it out first. (The more detail, the better!)
Each Monday morning, we'll post a new photo and challenge you to tell us its origin. The photo might be related to a prominent news story or theme -- or it might just be something that caught our eye.
Good luck!
Check out past "Where in the World ...?"