Pakistan slams U.S. allegations on spy agency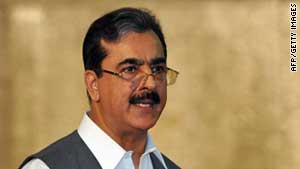 Pakistan Prime Minister Yusuf Raza Gilani denied accusations his country is supporting insurgents attacking U.S. troops (file photo).
STORY HIGHLIGHTS
NEW: Pakistan warns U.S. to stop the allegations or "you will lose an ally"
U.S.: The Pakistan-based terrorist group is attacking American troops
Pakistan Prime Minister Yusuf Raza Gilani slams the accusations
(CNN) -- The Pakistani prime minister slammed the United States on Friday over comments that a terror group attacking American troops is an "arm" of the nation's intelligence agency.
The Pakistan-based Haqqani network is actively targeting American troops across the border in Afghanistan, Joint Chiefs of Staff Adm. Michael Mullen told the U.S. Congress on Thursday.
His comments reflected U.S. officials' growing impatience with Pakistan's unwillingness to stop the attacks and the belief that it is actively supporting the insurgents.
Pakistan Prime Minister Yusuf Raza Gilani decried the accusations Friday.
"They can't live with us or without us," he told CNN affiliate GEO TV. "If they can't live without us, then they should make efforts to clear up any misunderstandings."
Pakistani Foreign Minister Hina Rabbani Khar also dismissed the claims, calling them allegations.
"You will lose an ally," Khar said on GEO TV. "You cannot afford to alienate Pakistan. You cannot afford to alienate the Pakistani people."
The chairman of the U.S. Senate Armed Service Committee, Sen. Carl Levin, D-Michigan, said the ability of the Haqqani network to launch attacks over the border from Pakistan is unacceptable. The Pakistani militant group is accused of being responsible for last week's Kabul attack and numerous others in which U.S. and NATO troops have died.
Levin expressed frustration with the Pakistani government, which has yet to use its troops to crack down on the insurgents and has not publicly condemned the attacks in Afghanistan, either.
Mullen, appearing for the last time in front of the committee before his retirement at the end of the month, spoke candidly about the threat posed by the Haqqanis.
Pakistan is "exporting" violence to Afghanistan, he said.
"The Haqqani network, for one, acts as a veritable arm of Pakistan's intelligence," Mullen said.
He said Pakistan's Inter-Services Intelligence agency supported the insurgents who planned and executed the attack on the U.S. Embassy and other strikes in Afghanistan.
In doing so, Mullen said, the agency is jeopardizing Pakistan's relations with the United States and Afghanistan. But he added that the solution is not to give up on Pakistan.
A flawed relationship is better than no relationship, he said.
FOLLOW THIS TOPIC