STORY HIGHLIGHTS
Ukrainian Vitali Klitschko is WBC world heavyweight champion
Klitschko is also founder of the Ukrainian Democratic Alliance for Reform
He runs the Klitschko Brothers Foundation children's charity with brother Wladimir
CNN's global series i-List takes you to a different country each month. In January, we visit Ukraine and look at changes shaping the country's economy, culture and social fabric.
Kiev, Ukraine (CNN) -- Ukrainian politicians don't pull their punches. There have been fist fights in parliament and, as the country deals with aftermath of a turbulent two decades since emerging from Soviet rule, brushes with the law that have threatened to bruise reputations.
Newcomers could be forgiven for entering this uncompromising arena with trepidation -- unless, of course, they are Vitali Klitschko.
A name familiar to boxing fans, Klitschko is the current WBC world heavyweight champion, having retained his title last October with a victory that left American opponent Shannon Briggs recovering in hospital.
But Klitschko has also been making a name for himself in Ukraine's political ring, scoring success for his Ukrainian Democratic Alliance for Reform party -- aptly also known as "Punch."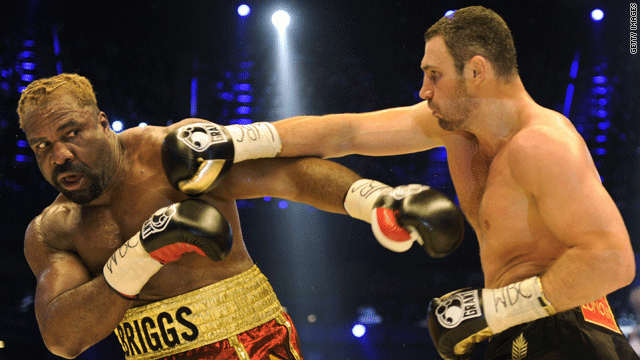 Gallery: Ukraine's pugilist politician
And the 38-year-old believes there are clear similarities between sparring in the ring and fighting a political corner.
"In every way, in life, in politics, you have to show your skills," he told CNN. "You have to defend yourself. You have to defend your mind -- not physically -- you have to use your strong mentality, you use your brain skills to defend your position."
Klitschko, already an oddity in the boxing world thanks to a doctorate in sports science that earned him the nickname "Dr. Ironfist," made the jump into politics in 2006, standing in his home city of Kiev.
He launched his Reform party in April last year, campaigning on a platform of anti-corruption and pledging to bring "European standards" of politics and economics to Ukraine.
Standing at over two meters tall, Klitschko is a formidable addition to Ukraine's political landscape, but the fighter says, unlike some politicians, he will keep his fists to himself.
It's painful to see that if a politician doesn't have brain power to defend his position, he tries to use his muscles
--Vitali Klitschko, boxer and politician
"I am actually 20 years in sport, in boxing, and never ever in 20 years I use my skills outside of the ring," he said.
"It's painful to see that if a politician doesn't have brain power to defend his position, he tries to use his muscles -- this politician doesn't have a future."
Klitschko isn't the only fighter to switch from pugilism to politics. In the Philippines, welterweight world champion Manny "Pacman" Pacquiao was last year elected to the country's House of Representatives.
Even as he eyes inevitable retirement from boxing, Klitschko says he will not focus entirely on politics, maintaining an active role in the children's charity he runs with younger brother Wladimir, also a world heavyweight champion.
Founded in 2003, the Klitschko Brothers Foundation built on work the pair were already undertaking for the United Nations, aiming to promote healthy lifestyles for children through sport.
"We try to give the young generation the opportunity to develop himself through sport," he said. "We try to use the power what has sport to change the world and bring attention to the people the problems that have our society."
Klitschko credits his relationship with his brother -- sometimes compared to that of the tennis world's champion sisters Serena and Venus Williams -- for his success.
"My brother is not just brother -- he's my best friend," he said. "We understand each other very well, we help each other and maybe that's why we're lucky and successful in sport.
"We make a condition in sport also: we never fight each other but we play each other at table tennis, chess. The life without a brother would be so boring and that's why I'm thankful to my parents I have my brother Wladimir. "
FOLLOW THIS TOPIC