STORY HIGHLIGHTS
Philippe Starck's latest collaboration is with luxury crystalware brand Baccarat
Starck describes his relationship with Baccarat as a "sparkling, surrealistic cocktail"
Worked with daughter on concept to celebrate the 170th birthday of Harcourt glass
Geneva, Switzerland (CNN) -- Philippe Starck describes his long-standing collaboration with luxury brand Baccarat as a "sparkling, surreal cocktail."
The renowned designer's latest work for the French crystalware-makers has been to create a new glass for that "cocktail."
To celebrate the 170th anniversary of Baccarat's classic mouth-blown crystal glass collection, the Harcourt, Starck turned the flutes black.
"I never work for the project by itself -- first I have a vision, I try to have the highest, the farthest vision that I can ... to guarantee some aristocracy of thinking," said Starck.
"It means you start from this vision on which you can build an ethic, from this ethic you can make a concept,. From the concept you can build an ethic, from this ethic you can make a concept ... finally you make an object. It's never the other way. That's why the partner to do that must have the same way of thinking."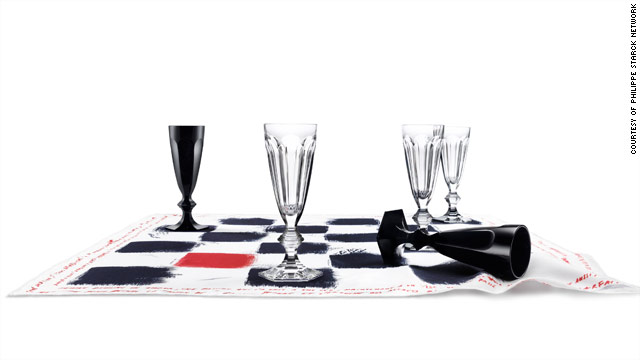 Gallery: Philippe Starck's latest collaboration
It's a vision that Baccarat shares, according to CEO Herve Martin . He says their styles complement each other.
"Philippe has an incredible ability to see beyond existing products and invent new products which are just using the same shape, the same design in a very different way," he said.
Baccarat realizes the importance of producing modern crystalware, even as it relishes its heritage, according to Martin.
"We are constantly, constantly striving to bring new elements, newness, new facets to our brands.
"The customers today, certainly more than ever in the past are interested in a sense of newness -- a sense of constantly challenging what you've been. It's no longer a game of static presentations of collections -- it's re-inventing what you are," he said.
And collaborating with designers is one way to integrate the old with the new.
Baccarat has a long history of teaming up with Starck, most notably, Starck turned the company's classic clear chandelier black -- these sell for €50,000 ($66,000) a piece now.
For Starck, the appeal of working with Baccarat is that it's not just about the bottom line.
"I don't like business," he said. "I don't like all these companies who make all this strategy to sell more ... When we work with Baccarat, it's not marketing strategy like that. Make money? It's easy! Bring something new and good to help people have a better life? It's a lot more difficult."
Function is obligation because I am not an artiste
--Philippe Starck
Baccarat has been making crystalware in the little town of Baccarat, two hours outside Paris, since 1764.
Master craftsmen delicately sculpt molten crystal, checking measurements for perfection, before blowing it into shape. These centuries-old techniques take at least 15 years to master.
Starck worked with his daughter, Ara, a painter, to come up with a concept for the latest project. The "story" behind the design is a father and daughter meeting up to play chess, with the Harcourt glasses representing the chess pieces.
Only 170 luxury sets of six clear and black flutes have been made and each will sell for around €3,000 ($4,100).
Starck is no stranger to collaboration. He has designed everything from hotel interiors and kitchen appliances to sportswear and watches.
Notable collaborations include the "Juicy Salif" a space rocket-shaped juicer for Italian kitchenware company Alessi and the Louis Ghost Chair for Kartell -- a Louis XV style chair in clear transparent and colored polycarbonate.
Both of these have become instantly recognizable cult products.
Of his approach to design, he says it is very conceptual and includes, in the case of his work for Baccarat, a strong affinity for math.
"You take some sand, you take some fire. You take some hands. You take intelligence, human intelligence (and) you create crystal and crystal -- by the reflection, aberration, defraction, reflection -- makes something which is close to a miracle, that means it is (the) pure poetry of mathematics."
Now 62 years old, Starck's greatest luxury is choice. He refuses 95% of the proposals he gets to work with brands. When he designs, he says there is only one prerequisite.
"Function is obligation because I am not an artiste. I don't make a painting. I don't make a sculpture. I make chairs, lamps, cars, planes, mega yachts -- there is a function. How I make this function -- there (are many different ways) to skin a cat."
FOLLOW THIS TOPIC