STORY HIGHLIGHTS
The Russian leader wants dismissal and prosecution for security officials
"This is a terror attack, a grief, a tragedy," he says
The explosion at Domodedovo Airport killed 35 people
Russia's authorities still trying to determine who is responsible for attack
Moscow (CNN) -- Russian President Dmitry Medvedev demanded Tuesday that officials responsible for security at Moscow's busiest airport be punished after 35 people were killed in a suicide bombing there, state-run media said.
Medvedev is seeking dismissal and prosecution of Interior Ministry and Federal Security Service officials, said state news agency RIA Novosti.
"I instruct the Russian government to consider the issues of liability of the persons responsible for security on transportation," he said. "I instruct prosecutors and the investigation committee to consider the criminal liability of these persons."
The blast occurred around 4:30 p.m. Monday at the entrance of Domodedovo Airport's international arrivals section.
Authorities were still trying to tally the exact number of people injured in the blast. RIA Novosti said as many as 180 were hurt. The Russian Ministry of Emergency Situations said there were 110 wounded people still in hospitals.

Cameras catch moment of blast

Inside Moscow's Domodedovo Airport

Russia's ruthless enemies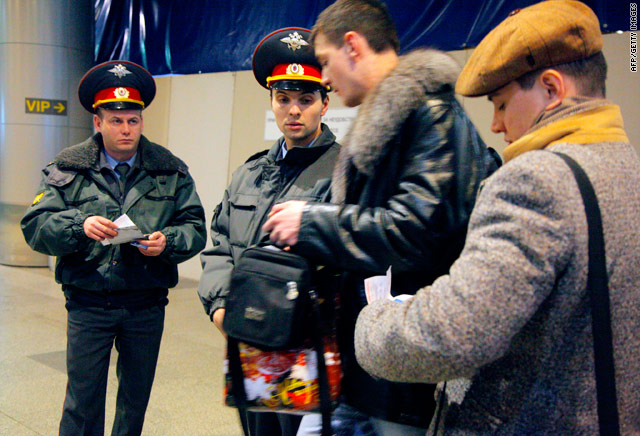 Gallery: Terrorist bombing at Moscow airport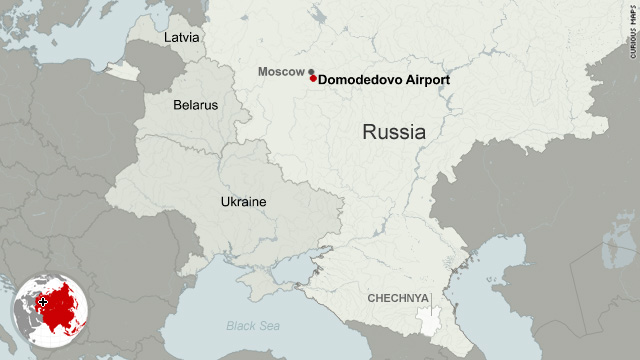 Map: Domodedovo airport
Medvedev blamed security violations for the deadly blast at the airport.
"What happened at Domodedovo shows the airport lacked security," Medvedev said. "It's unbelievable that such a huge amount of explosives were brought into the terminal. Those officials responsible for security at Domodedovo must be punished for their decisions. This is a terror attack, a grief, a tragedy."
It is not yet clear what impact a recent decision to shake up the Russian Transport Police, which is charged with protecting train stations and airports, may have had on the security perimeter at the airport Monday.
In August, Medvedev fired at least 12 generals in the Transport Police branch of the Ministry of Interior, as part of a broader reform of the Russian security services.
Domodedovo is 22 kilometers (14 miles) southeast of Moscow and is the largest of Moscow's three airports, as well as the busiest in terms of passenger traffic.
It was still not immediately clear who was responsible for Monday's blast, though previous terror attacks in Russia have been blamed on militants from the North Caucasus region.
Over the last decade, bombers have hit trains and planes operating in and traveling out of Moscow at least four times, with a combined death toll of more than 100 victims. In 2004, two planes blew up nearly simultaneously after taking off from Domodedovo airport. That attack was linked to Chechen suicide bombers.
An explosive device derailed an express train in November 2009, killing at least 26 people. Chechen rebels were blamed again.
Medvedev had strong words for the perpetrators of the attack.
"We must do everything in order for the criminals who committed this crime to be established, found and brought to justice. And the nest where these bandits are hiding, whatever their name is, should be exterminated," Medvedev said.
CNN's Maxim Tkachenko contributed to this report
FOLLOW THIS TOPIC