Spain orders review of nuclear power plants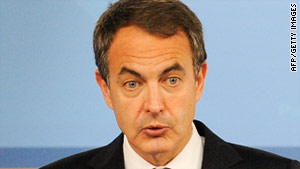 Jose Luis Rodriquez Zapatero has ordered a review of Spain's nuclear plants in light of the nuclear crisis in Japan.
STORY HIGHLIGHTS
The decision was made in light of the crisis in Japan
Spain's prime minister says the review will make the plants even safer
Venezuela announced it's halting plans for a nuclear plant
Madrid, Spain (CNN) -- Spanish Prime Minister Jose Luis Rodriguez Zapatero Wednesday ordered a review of his country's nuclear power plants in light of the crisis unfolding in Japan, where workers are battling to contain radioactive materials at a plant after an massive earthquake and tsunami.
Spain is the latest in a number of countries around the world who are giving their nuclear programs a second look as Japan tirelessly works to avoid a nuclear disaster.
According to nation's nuclear regulatory body, the Nuclear Safety Council, Spain has eight nuclear reactors in operation at six nuclear power plants.
"We should do this, but there are reasons to remain calm about the safety of our nuclear plants and about the reports the Nuclear Safety Council is preparing," Zapatero told reporters of his decision for a review.
He added, "What we are going to do is be even more sure and safer. And if there is a needed improvement at some nuclear plant due to a hypothetical risk, that's the work of the Nuclear Safety Council."

Japanese plant workers hailed as heroes

More workers at Japan nuclear plant

Japan's nuclear challenges
Separately, Zapatero said that Spain is not ordering an evacuation of its nationals in Japan because there's been no such request from the Japanese government. Instead, Spain will follow Japan's lead and will try to assist those Spaniards who wish to leave.
There are no Spaniards in the affected zone near the nuclear power plant or in other high-risk areas, the prime minister's office reported. There are about 1,900 Spaniards in Japan, more than half of them in the Tokyo area.
In Venezuela, President Hugo Chavez said that preliminary plans for a nuclear power plant in his country will be halted. He ordered his energy ministry to look for alternative sources of energy.
Tuesday, German Chancellor Angela Merkel announced a three-month moratorium on the extension of the operation periods for German nuclear plants.
That move will lead to at least one German nuclear plant shutting down very soon, Germany's environmental minister later said in a statement.
FOLLOW THIS TOPIC


Part of complete coverage on

One effect of Japan's deadly quake has been to remind many of the importance of family and to drive them to the altar.

Toyota has announced drastic production cuts due to difficulty in supplying parts following the earthquake in Japan.

There's an eerie stillness about the desolate buildings and empty streets of Pripyat.

A photographer documents the ghost town left behind by the nuclear crisis in Japan. What he found was a "time stop."

Somber ceremonies mark one month since the earthquake and tsunami killed as many as 25,000 people.

Witnesses capture the very first moments of the devastating tsunami that struck Japan in March.

A month after a devastating earthquake sent a wall of water across the Japanese landscape, the global terrain of the atomic power industry has been forever altered.

Engineers use a flying drone to peer into the damaged reactors at the Fukushima Daiichi nuclear power plant.


Today's five most popular stories