Journalists in Turkey decry crackdown on colleagues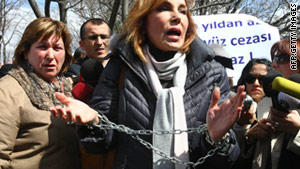 Demonstrators outside the Turkish parliament on April 14.
STORY HIGHLIGHTS
Reporters are suspected in an alleged plot to overthrow the government
"Poems and books are not bombs, Prime Minister" protesters chanted
Ahmet Sik and Nedim Sener have written about hot-button issues
Reporters Without Borders: Turkey is in the bottom 40 nations for press freedom
Istanbul, Turkey (CNN) -- Hundreds of Turkish journalists and activists staged an angry march in Istanbul in support of jailed reporters, snatched by police during the ongoing and controversial probe of an alleged plot to overthrow the government.
Ahmet Sik and Nedim Sener were arrested along with others for having ties to the Ergenekon organization -- investigated by the courts for trying to seize power.
But many Turks believe that Prime Minister Recep Tayyip Erdogan's Islamic-rooted government is using this probe as an excuse to target dissenters and supporters of the longtime secularist system.
"Poems and books are not bombs, Prime Minister," the demonstrators chanted.
Can (pronounced John) Dundar, a columnist for the Milliyet newspaper and an anchor for NTV, said "the accusers are saying there is proof that they are guilty, but all are being kept in jail without any proof being shown."
The demonstrators marched to a courthouse on the sprawling city's Asian side where a hearing had been scheduled for Sik and Ertugrul Mavioglu over a book they co-authored about the Ergenekon probe.
Mavioglu is not in jail and participated in the march.
Sik, currently in prison pending trial, had written an investigative book, "Imam's Army," about a powerful religious group led by Fethullah Gulen, a Muslim preacher and educator whose opponents see him as an influential voice for opposition to Turkish secularism. Gulen now lives in self-imposed exile in Pennsylvania.
Draft copies had been confiscated by police, but the text showed up on the internet in defiance of the law.
The marching journalists also chanted in support of Sener, an investigative journalist who authored a book on the murder of Hrant Dink, the Turkish journalist of Armenian ethnicity slain in Istanbul four years ago.
Turkey's democratic system has been seen as a political model for the Muslim countries undergoing change, but press freedom is increasingly a matter of concern. Groups such as the Committee to Protect Journalists have expressed alarm over the wave of journalist arrests.
Over the last two years, Turkey has dropped from 102 to 138 on the press freedom index of Reporters Without Borders, and it is now among the bottom 40 countries of the world when it comes to freedom of the press.
Citing the Organization for Security and Cooperation in Europe, the International Press Institute said Turkey is currently holding at least 57 journalists in prison.
"We want to be free to write, to be free to talk. We want to be free to publish our books without any repression or fear and we want to feel secure and safe in the mornings," Dundar said.
CNN's Talia Kayali contributed to this report
FOLLOW THIS TOPIC