STORY HIGHLIGHTS
Friends share their insights into Kate Middleton's character
Kate is said to be "hard-working" and "diligent"
University friend Jules Knight: "She was a very intelligent and very down-to-earth"
Editor's note: "CNN Presents: The Women Who Would Be Queen," a special documentary on Kate Middleton, Prince William's wife-to-be and his mother, the late Diana, Princess of Wales airs at the following times on CNN International: Saturday: 1300, 2000, Sunday: 0900 (all times GMT); and 8 p.m. ET Saturday on CNN.
London, England (CNN) -- She's about to marry into the world's most famous royal family -- but despite enormous public interest and a voracious press pack eager for information, little is actually known about Kate Middleton.
Her refusal to court media attention throughout her relationship with Britain's Prince William, aided by a loyal group of friend and family, means Kate has kept much of her private life, very much private.
Although The Palace has released an official biography of the bride-to-be, along with a selection of childhood photos, information about the princess-in-waiting remains limited and tightly controlled.
Here, friends share their insights into the character of the middle-class girl set to become Britain's future queen.
Diligent

Day in the life: Kate Middleton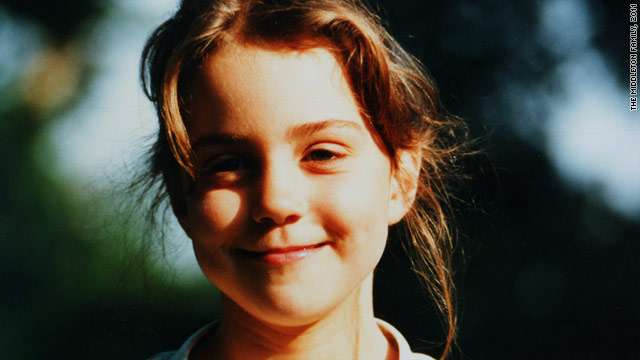 Gallery: Kate Middleton's family photos
Jules Knight was part of the couple's circle of friends while at St. Andrews University, in Scotland. Knight remembers Kate being an extremely diligent student.
"I met Kate very early on," he says. "She studied Art History and she was a clever girl."
"She was a hard worker and committed and she obviously really applied herself to the academic side of university and was well behaved."
Malcolm Sotherland, former expedition leader for Raleigh International, remembers Kate from her 10-week expedition to Chile during her gap year.
"She wasn't lazy, she was a hard worker and got on well with everyone no matter where they were from," he says.
"She embraced everything that was thrown at her and enjoyed working with everyone ... (She) was a very mature girl for her age. She knew what she was about, she knew how to look after herself.
"At the time we didn't know, she didn't know she was going to be a future bride of a future king. She didn't have to be someone special so I think she was very much herself, which was lovely," Sotherland says.
Down-to-earth
John Haley is the owner of The Old Boot Inn pub near Bucklebury, where Kate grew up, and has known the Middleton family for a number of years.
Despite her future role as a royal, Haley says Kate is "very normal."
"Kate's been quite a few times over the years and together they (Prince William and Kate) have been in a few times, but it's just normal and relaxed."
She's not a risky choice: She's smart and she's level-headed and she's well behaved.
--University friend Jules Knight.
"To the people in this village they're just a normal couple who come in here and are liked and loved by loads of people," he adds.
Knight echoes these sentiments: "She's become one of the most famous women in the world, but that seems so strange to us because she was one of our contemporaries -- a normal, middle-class girl.
"She was a very sporty young girl and intelligent and very down-to-earth. But there's nothing, sort of, surprising about Kate. She is the girl that Will fell in love with, but now her life is going in this incredibly different way.
Boring
Friend of Kate and editor-at-large for UK high-society magazine Tatler, Richard Dennen, says the future royal's reluctance to be a fashion icon says a lot about her personality.
"She specifically doesn't want to be a fashion icon ... I think she's probably concerned with looking absurd.
"They want to be hard-working, safe royals. I think if she was automatically going out and buying really hardcore designers now, it wouldn't bode well for the future. The fact that she's been safe and dare I say, boring, bodes well.
Playing it safe even extends to Kate's choice of friends, says Dennen.
"I think they're extremely careful about the people they hang out with. They really trust their friends. I would say they don't actually have that many friends ... understandably.
Measured
"She's very measured, very controlled," says Dennen. "That is perfect because you don't want someone who's going to be falling out on the Kings Road (in London) face down wasted after a boozy session.
"There was this nightclub that everyone went to called Boujis and she was famous for always nipping into the bathroom, checking her hair and makeup before she left because she knew there were photographers waiting outside," he adds.
University friend Knight remembers even during the couple's brief breakup in 2007, Kate was calm and collected.
"I remember having lunch with her once they split up and it was very evident she was being very forthright. She was like, 'Right, I'm getting on with my life ... let's move on.' She was very calm and strong about it, and I think he (Prince William) thought 'Oh my God ... '"
"I haven't seen her lose her temper with a photographer or lash out. In a way she's the perfect consort for Prince William because she's not a risky choice: she's smart and she's level-headed and she's well behaved."
FOLLOW THIS TOPIC