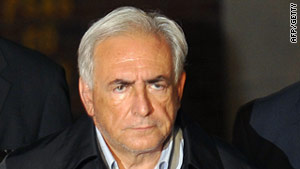 IMF head Dominique Strauss-Kahn is taken out of a police station in New York on May 15, 2011.
STORY HIGHLIGHTS
Head of International Monetary Fund (IMF) widely tipped to run for his country's presidency
Many in France believe he was well placed to unseat the incumbent Nicolas Sarkozy
Dominique Strauss-Kahn facing allegations of sexual assault while staying at New York hotel
(CNN) -- The arrest of Dominique Strauss-Kahn over an alleged sexual assault at a New York hotel predictably dominated the front pages of France's newspapers Monday, with most focusing on the likely damage to his political career.

The head of the International Monetary Fund (IMF) appeared in court Monday to answer allegations of sexual assault. Benjamin Brafman, one of the IMF chief's attorneys, vowed Sunday to vigorously defend him in court, insisting his client is innocent.
Strauss-Kahn was widely tipped to run for his country's presidency in the 2012 elections, with many believing he was the man to unseat Nicolas Sarkozy.
France's oldest daily newspaper, Le Figaro, ran the headline "Coup de tonnerre sur la présidentielle," claiming the arrest of the socialist politician would hit the 2012 presidential campaign like a "thunderbolt."
Its editorial predicted that Strauss-Kahn "will not be the next president of the French republic."

Toobin: IMF head could get long sentence

IMF boss arrest overshadows debt talks

Who is Dominique Strauss-Kahn?
Le Monde also chose to use the "thunderbolt" idiom as it described the impact of Strauss-Kahn's arrest on his party, the Socialist Party of France (PS). As if to reinforce the feeling in France that the former finance minister was a genuine presidential contender from the left, its headline asked: "Who can take over the Socialist Party?"
IMF chief faces court questions
"DSK OUT" was the unequivocal declaration from the left-leaning Libération. "The Socialists have lost the candidate who was riding high in the polls ... (and was) the best placed to beat (President) Nicolas Sarkozy," it wrote.
However it also chose to publish comments made by the 62-year old in April when he reportedly said the three most difficult issues for his presidential bid would be: "Money, women and my Jewishness."
"Yes I like women ... So what? ... For years there's been talk of photos of massive orgies, but nothing has ever come out .... So, let them show them," the paper quoted him as saying.
The IMF chief's critics had described him as a "champagne socialist" and attacked his apparent luxury lifestyle and fondness for women, according to French media reports.
France Soir, a popular French tabloid, proclaimed the "DSK drama" had jeopardized his political chances. Its headline was accompanied by a picture of the economist with his head in his hands.
Meanwhile, Le Parisien chose a more understated headline, describing Strauss-Kahn's problems as "a setback."
It also carried quotes from his wife, Anne Sinclair, who expressed her shock at the allegations. In a statement she said: "I do not believe the accusations against my husband, not for one second." Calling for decency and restraint, she insisted "I do not doubt that his innocence will be established."
Ouest France, a provincial French daily, reported news of Strauss-Kahn having a potential alibi. Citing a report from Radio Monte Carlo, it said lawyers had apparently retraced his schedule and found that Strauss-Kahn had left his hotel at noon, an hour before the alleged assault on the chambermaid.
CNN's Bryony Jones contributed to this report.
FOLLOW THIS TOPIC