STORY HIGHLIGHTS
NEW: KLM, British Airways cancel flights into Scotland
U.S. President Barack Obama leaves Ireland early
Scotland's Loganair cancels flights for Tuesday
Ash from the Grimsvotn volcano could reach Scotland on Tuesday, authorities say
Is severe weather happening where you are? Send us your story, photos and videos.
(CNN) -- Volcanic ash from an Icelandic eruption could reach British airspace Tuesday, sooner than previously predicted, Britain's Civil Aviation Authority warned Monday.
Scotland's Loganair announced that all flights will be canceled Tuesday due to forecasts that indicate "a high density of ash will be present in large parts of Scottish airspace." British Airways and Dutch airline KLM also canceled dozens of scheduled Tuesday flights to and from locations in Scotland.
The eruption forced U.S. President Barack Obama, who was in Ireland on Monday, to move up the departure for his next stop on a six-day European tour.
"Due to a recent change in the trajectory in the plume of volcanic ash, Air Force One will depart Ireland for London tonight. The schedule for tomorrow will proceed as planned," White House official John Earnest told CNN.
Get more information from the UK's National Weather Service

Iceland volcano turns day into night

Front-row seat to an eruption

Volcano erupts in Iceland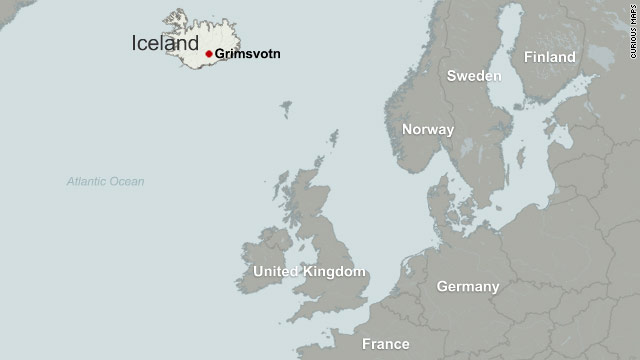 Iceland volcano
The Barcelona football club was also considering flying early to London for its Saturday match-up against Manchester United in the Champions League Final.
The ash forced the closure of Icelandic airspace over the weekend, raising the specter of the kind of disruption of trans-Atlantic and European air travel that took place last year.
But Britain's CAA said new arrangements have been put in place since last year's eruption of another Icelandic volcano, and those changes should reduce the number of flights that have to be canceled if the ash cloud spreads.
The main international airport in Iceland reopened Monday evening, according to the airport's website.
There were no international flights in or out of the country on Sunday after Grimsvotn -- Europe's most active volcano -- began to erupt on Saturday.
Last year, trans-Atlantic and European air traffic was snarled for weeks by an ash cloud from the other volcano, Eyjafjallajokull.
The Grimsvotn volcano under the Vatnajokull glacier erupted Saturday, according to the Icelandic Meteorological Office.
The last eruption of the volcano was in 2004, CNN affiliate TV2 Iceland reported.
Grimsvotn is Iceland's most frequently active volcano. In 1783, a 16.7-mile fissure system from the volcano produced the world's largest known historical lava flow over a seven-month period, damaging crops and livestock, according to the Smithsonian National Museum of Natural History. A resulting famine resulted in the loss of one-fifth of Iceland's population, according to the Smithsonian website.
CNN's Alex Felton and Brianna Keilar contributed to this report.
FOLLOW THIS TOPIC