Where in the world ... ?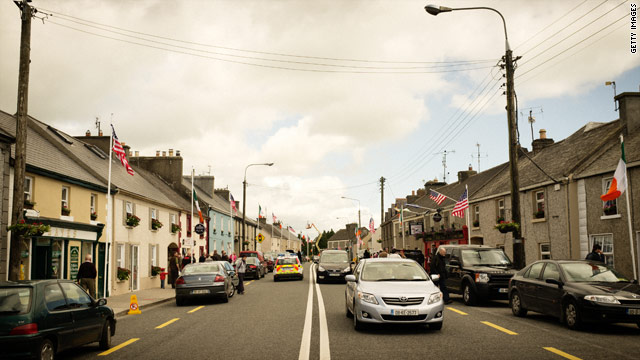 STORY HIGHLIGHTS
Do you know where this photo was taken?

CNN will post a new photo each Monday morning and reveal the answer later that day

The photo might be related to a recent story -- or it could just be something unusual we found
(CNN) -- [Updated 3:45 p.m. ET, Monday, May 23] The photo above was taken in the tiny Irish village of Moneygall on Sunday, one day before U.S. President Barack Obama paid a visit.
Obama has Irish roots that trace to Moneygall (pronounced MAH-nee-gall). The village is believed to be the birthplace of one of his great-great-great-grandfathers.
Ireland was the first stop on the president's six-day, four-country tour of Europe. During his brief stay, Obama gave a speech in downtown Dublin where he praised the Irish people and reassured them that they can recover from the country's economic turmoil.
He also stopped into Moneygall and enjoyed a pint of Guinness in a local pub.
"For me to make such a personal connection like this ... is spectacular," he said.
Video: See Obama sip Guinness in Moneygall

Obama left for London late Monday. He will also visit France and Poland this week.
Maybe the Irish flags were a dead giveaway, but most of you were easily able to identify the photo as being from Moneygall. The first three were "tomnryan," "maflmj" and "Cb704." Sláinte!
[Original post] Do you know where this photo was taken?
If you think you know the answer -- or if you just want to take a wild guess -- post it in the comments area below. Later in the day, we'll reveal where the photo was taken and give credit to those who figured it out first. (The more detail, the better!)
Each Monday morning, we'll post a new photo and challenge you to tell us its origin. The photo might be related to a prominent news story or theme -- or it might just be something that caught our eye.
Good luck!