Spanish court indicts 20 Salvadoran military officials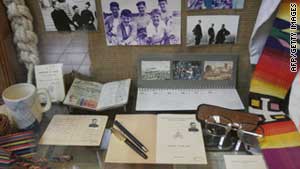 Items of slain Spanish Jesuit Ignacio Ellecuria at the Universidad Centroamericana museum in San Salvador.
STORY HIGHLIGHTS
El Salvador's former defense minister is among those indicted
The officials are wanted in connection with the 1989 killings of six priests
A judge says a trial in El Salvador was flawed and failed to achieve justice
The Spanish court has also been involved in other international human rights cases
Madrid (CNN) -- Spain's National Court issued an arrest warrant Monday for 20 Salvadoran military officials in connection with the slayings of six priests, their housekeeper and her daughter more than two decades ago.
The event, known as the "Jesuit Massacre," became one of the most notorious episodes of El Salvador's bloody 12-year civil war, which pitted leftist guerrillas against the U.S.-backed conservative government.
In an indictment issued Monday, Judge Eloy Velasco Nunez accused the officials -- including El Salvador's former defense minister -- of murder, terrorism and crimes against humanity. He said a trial in El Salvador was flawed and failed to bring the perpetrators to justice.
"That judicial process was a defective and widely criticized process that ended with two forced convictions and acquittals even of confessed killers," Velasco wrote.
Two military officers were convicted of murder in 1991, but were pardoned in 1993 under an amnesty law approved by El Salvador's National Assembly.
The eight victims of the November 1989 killings "were one of at least 75,000 unarmed civilians who died in this war, which was much more violent than the better known conflicts in Chile and Argentina," Velasco wrote. "It is estimated that 85% of the deaths can be attributed to the army and security forces."
Five of the slain Jesuits were born in Spain. They were killed at their residence at prestigious Central American University in El Salvador's capital, San Salvador.
The case was taken to Spain's National Court because of its involvement in other high-profile human rights cases.
The same Spanish court issued an arrest warrant for former Chilean dictator Augusto Pinochet in 1998, while he was in a London hospital. The former dictator was held in England for 18 months while officials considered Spain's extradition request. British authorities ultimately decided Pinochet was too frail to stand trial, and allowed him to go home to Chile.
The Spanish court has also taken on human rights cases from other countries, testing an international legal principle known as universal jurisdiction that allows some serious crimes to be tried anywhere, regardless of where the alleged offenses occurred.
Spain and El Salvador have an extradition treaty, opening up the possibility that the Central American country could send the former officials to Madrid to stand trial.
For years, the extreme right in El Salvador had accused the Jesuits of siding with the leftist guerrillas. Uniformed troops were seen searching the living quarters of the priests at Central American University two days before the killings, CNN reported at the time.
One of the slain Jesuits spoke to CNN shortly before he was killed about the chilling effect of the long-running Salvadoran civil war.
"We have become used to violence," Ignacio Martin Baro said. "We have become used to living in a very dangerous world. We have learned to live, accepting death, extraordinary abnormal death, into our lives."
CNN's Al Goodman contributed to this report.
FOLLOW THIS TOPIC