Where in the world ... ?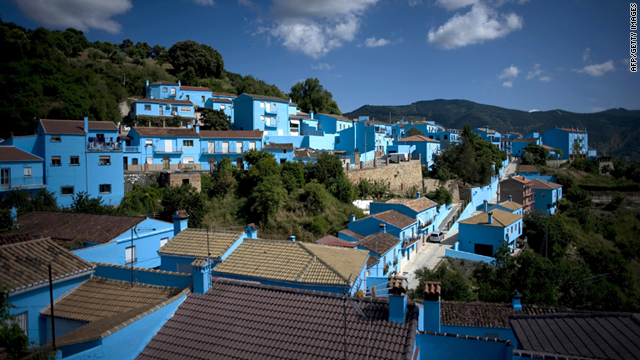 STORY HIGHLIGHTS
Do you know where this photo was taken?

CNN will post a new photo each Monday morning and reveal the answer later that day

The photo might be related to a recent story -- or it could just be something unusual we found
(CNN) -- [Updated 4:30 p.m. ET, Monday, June 13] These blue buildings can be found in the tiny village of Juzcar, Spain, which is in the province of Malaga near the country's southern coast.
The buildings used to be white, but they were painted azul after Sony Pictures chose the village to host the world premiere of the movie "Smurfs 3D" (or as it's called there, "Los Pitufos 3D").
There are only about a couple hundred people who live in Juzcar, but perhaps its most famous landowner is hundreds of miles away.
"While searching for info about the (now) blue village, I learned (small world!) that a big chunk of land nearby (7,000 hectares /17,297 acres) belongs to beleaguered Libyan leader Moammar Gadhafi," wrote Liz Ferguson of the Montreal Gazette. "A headline in La Opinion de Malaga said that he owns 'half of Pujerra and one third of Juzcar.' "
With regards to our photo challenge, credit goes to "environcru" for being the first person to answer correctly and provide full context.
[Original post] Do you know where this photo was taken?
If you think you know the answer -- or if you just want to take a wild guess -- post it in the comments area below. Later in the day, we'll reveal where the photo was taken and give credit to those who figured it out first. (The more detail, the better!)
Each Monday morning, we'll post a new photo and challenge you to tell us its origin. The photo might be related to a prominent news story or theme -- or it might just be something that caught our eye.
Good luck!