Angelina Jolie visits Syrian refugees in Turkey
STORY HIGHLIGHTS
Angelina Jolie is a U.N. goodwill ambassador
Jolie: Everyone must do "all they can for the innocent families" caught in crossfire
More than 9,600 Syrian refugees have fled to Turkey
(CNN) -- Actress Angelina Jolie met with Syrian refugees in Turkey on Friday and drew attention to the anguish faced by families -- and families torn apart -- by the violence in Syria.
More than 9,600 refugees are living in four camps managed by Turkey and the Turkish Red Crescent, according to the Office of the United Nations High Commissioner for Refugees.
Jolie, a longtime goodwill ambassador for the United Nations' refugee agency, visited the Altinozu camp in Turkey's Hatay province, about 20 kilometers (12 miles) from the Syrian border, the UNHCR said.
"The people in this camp have fled in fear for their lives, and many told me they were distraught about the safety of loved ones still in Syria," Jolie said, according to the refugee agency.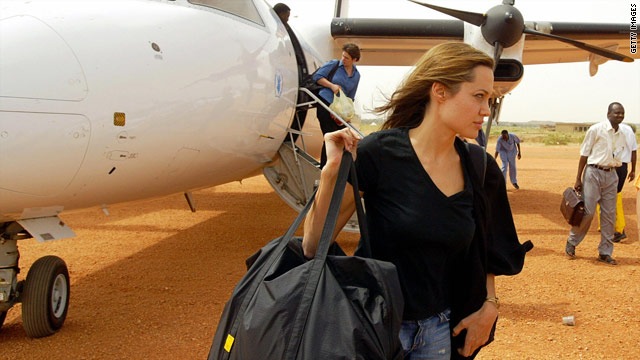 Gallery: Angelina Jolie: The ambassador actress
Jolie met with one woman whose husband was killed. The woman fled to Syria late in her pregnancy and gave birth at the camp, the UNHCR said. Another woman told Jolie about her husband who was too afraid to cross the border.
A wave of Syrians have fled their country for Turkey to escape violence, including a military offensive in the Jisr al-Shugur area.
Refugees at Altinozu are housed in warehouses at an old tobacco factory, and they staged a demonstration at the camp in solidarity with the many anti-government demonstrations occurring across the border in Syria.
They held up signs that said, "Our military is killing its own people, please make it stop" and "U.N., help us please." People chanted, "stop killing children" and other anti-regime slogans.
The people in this camp have fled in fear for their lives, and many told me they were distraught about the safety of loved ones still in Syria.
--Angelina Jolie
"I appreciate the opportunity to visit this camp and talk to these families," Jolie said, according to the UNHCR. "It is a really complex situation and everyone needs to be doing all they can for the innocent families caught in the crossfire. I will be following this situation very closely and doing everything I can."
She also praised the Turkish government and the Turkish Red Crescent for their "tremendous generosity" to the refugees.
"The Red Crescent has set up camps really quickly and provided medical and other care. And UNHCR stands ready to assist if the situation starts to escalate," Jolie said, according to the U.N. office.
Jolie was named a goodwill ambassador for the UNHCR in 2001 and has visited more than 20 countries "to highlight the plight of millions of uprooted people and to advocate for their protection."
The U.N. office said her interest in "humanitarian affairs was piqued in 2000 when she went to Cambodia to film the adventure film 'Tomb Raider.'"
Jolie has won numerous acting awards, including an Academy Award for best supporting actress for her performance in 1999's "Girl, Interrupted."
CNN's Arwa Damon and Yesim Comert contributed to this report
FOLLOW THIS TOPIC


Part of complete coverage on

Pro-Mubarak supporters believe Egypt's former president is innocent of charges of corruption and killing protesters.

Fighting in Libya started with anti-government demonstrations in February and escalated into a nationwide civil war.

After months of seeming stalemate, Libyan rebels declared they were moving in on Tripoli. But who are they?

Six months and more than 17,000 air sorties after it began, NATO's Operation Unified Protector in the skies over Libya grinds on.

Click on countries in CNN's interactive map to see the roots of their unrest and where things stand today.

Are you in the Middle East or North Africa? Send iReport your images. Don't do anything that could put you at risk.

Behind the official smiles for the cameras some people in Libya's capital are waiting for the rebels, reports CNN's Ivan Watson.

Tunisia's Mohamed Bouazizi not only ignited a series of revolts but heralded the first appearance of Arab youth on the stage of modern history.


Today's five most popular stories