Italian Cabinet OKs 47 billion-euro austerity package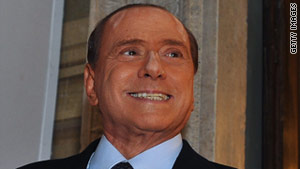 Prime Minister Silvio Berlusconi says, "We have to reach the budget balance by 2014."
STORY HIGHLIGHTS
The plan now goes to Italy's Parliament
Finance minister says it's based on "increasing revenues and reduction of expenditures"
Prime Minister Berlusconi asks for cooperation from opposition parties
(CNN) -- The Italian Cabinet approved an austerity budget package Thursday aimed at saving €47 billion ($68 billion) over four years.
"It's a package balanced between increasing revenues and reduction of expenditures," Finance Minister Giulio Tremonti told journalists.
"We have fulfilled our commitment to keep our hands out of the Italians pockets," Prime Minister Silvio Berlusconi said of the austerity package, which now goes to Parliament.
Berlusconi asked for cooperation from opposition parties.
"We have to reach the budget balance by 2014," Berlusconi said, adding the country cannot live beyond its means.
Berlusconi and Tremonti did not explain specifics of the package in their appearances Thursday.
On the Italian government website there were a few lines regarding the contents of the package: "The package is divided in four parts: the first one is dedicated to the reduction of the costs of politics (parliamentary fees, use of state cars and flights), the second part is dedicated to the measures in general to reduce the expenditures, the third part to fiscal revenues, and the fourth part to measures to increase development."
News reports in Italian media in recent days said that most of the cuts will come from freezing salaries in the public sector and reducing local spending.
The opposition criticized the package.
"It's a ticking time bomb," said Pierluigi Bersani, leader of the Democratic Party, because the big cuts will come in 2013 and 2014. New elections are due to be held in 2013 so, potentially, these are cuts that Berlusconi would leave for the next government to deal with.
"We have reached the goals decided for 2010 and 2011 on a European level," the finance minister said Thursday night, adding, "no matter who will be in government in 2013-2014, there are no alternatives."
Meanwhile, inflation is growing.
Thursday, figures of a preliminary estimate for June had inflation up 2.7% from the same period last year.
According to Istat, the national statistics bureau, the main culprit in the inflation growth is the cost of transportation, which Italians will feel going on holiday this summer.
Journalist Livia Borghese contributed to this report.
FOLLOW THIS TOPIC