STORY HIGHLIGHTS
A five-month study says some countries are using Interpol to target political opponents

Many of Interpol's Red Notices have been issued for nations with poor human-rights records

Interpol critics say it doesn't do enough to ferret out political cases
Interpol says it's doing its best and that there are also a lot of gray areas

Editor's note: The following story was sponsored by the International Consortium for Investigative Journalists, a global network of reporters dedicated to investigating cross-border crime, corruption and the accountability of power. The group was founded in 1997 by the Center for Public Integrity, a nonprofit, nonpartisan organization that produces original investigative journalism about significant public issues.
(CNN) -- If taunting were a crime, Shahram Homayoun would certainly have to plead guilty.
After fleeing Iran in 1992 and moving to Los Angeles, Homayoun started a satellite television station, Channel One, to beam a message of civil resistance into the homes of Iranians.
Over the years, his audience has scribbled his slogan, Ma Hastim ("We exist" in Farsi) on Iranian walls and bridges to promote democracy in the country. He has also called on his listeners to show their solidarity in creative ways, such as gathering at the tomb of Cyrus the Great or showing up at their local bakery on the same day -- every Thursday -- and asking for bread.
Yes, Homayoun is definitely a troublemaker.
"Apparently, the Interpol thinks so, too," he said in a recent interview.
At the request of Iran, which charged Homayoun with inciting terrorism, Interpol issued a Red Notice in December 2009 requesting Homayoun's arrest.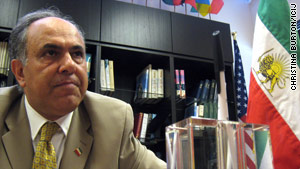 At the request of Iran, Interpol issued a Red Notice on Shahram Homayoun, pictured in his American office.
A Red Notice is an international wanted notice put out by Interpol on behalf of a country seeking a fugitive.
"The bank called me and said, 'There's a letter here that says you're a terrorist,' " Homayoun said.
Red Notices are sent to police agencies across the world and sometimes posted on Interpol's public website to help bring criminals to justice. But many Red Notices have been issued for nations with poor human-rights records and endemic corruption in their legal systems.
Some of these nations are using Red Notices to pursue political opponents or economic targets, according to a five-month investigation by the International Consortium of Investigative Journalists.
Because of the way Interpol is structured, there can be little recourse for those who are unjustly targeted.
How Interpol works
Contrary to what you might have seen in the movies, Interpol, an 88-year-old organization based in Lyon, France, doesn't have agents who make arrests. Its mission is to provide support to police agencies from 188 countries across the globe and make it easier for those countries' police agencies to work together and make arrests for each other.
These 188 member nations, however, include dictatorships as well as democracies. Iran and Libya are members, and their Red Notice requests are treated the same as those from Canada, Great Britain and France, for example.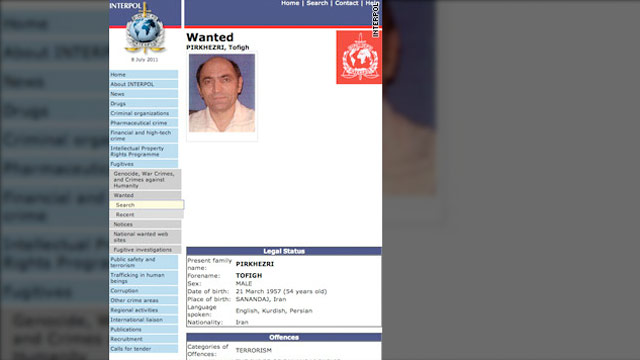 Gallery: Questionable Red Notice cases
According to the International Consortium of Investigative Journalists, at least 17 countries, including China, Iran, Pakistan and Venezuela, have used Red Notices to go after political opponents, economic targets or environmental activists in the last five years.
The journalists group also analyzed a snapshot of Interpol's published Red Notices on December 10, 2010. The analysis included 7,622 Red Notices that Interpol has issued at the request of 145 countries.
About 28% of the Red Notices studied, more than 2,200, were from countries that provide no political rights or civil liberties, according to the independent organization Freedom House.
Nearly half the Red Notices studied -- 3,600 -- were from countries that Transparency International ranked among the most corrupt on its annual global corruption index, which measures perceptions of corruption in law enforcement and the judicial system. These countries were rated 3 or below on a scale that runs from 0 (highly corrupt) to 10 (very clean).
So just how many of those Red Notices were politically motivated? There's no way to find out.
Although Interpol has specific guidelines on how to deal with political cases, press officer Rachael Billington said it's impossible to determine how many are in Interpol's database. The only figure she would provide is that roughly 3% of Interpol's cases are referred to its lawyers for review.
A Red Notice can be even more effective than the judicial system, with none of the safeguards.
--Kyle Parker, a policy adviser to the U.S. Helsinki Commission
Interpol's chief lawyer, Joël Sollier, said the agency works hard to ferret out cases chiefly motivated by politics rather than crime.
"If we don't," he said, "we are dead."
International cooperation is based on trust, Sollier said, and if Interpol is seen as political, it loses credibility.
According to its constitution, Interpol cannot get involved in "activities of a political, military, religious or racial character." But Interpol isn't accountable to any outside court or body, and it doesn't have to share any data with anyone other than its own police members and its own appeals body. Its operations are mostly opaque in the name of protecting sovereign law enforcement information, and the statistics that it publishes don't reveal how often it finds cases that are political or when its power has been abused.
"I think the process is unfair," said Anand Doobay, a British lawyer who has defended people on Interpol's list. "There's no transparency to it. It's weighted in favor of law enforcement and the need to prevent and disrupt serious crime and terrorism. There's very little by way of protection to keep the state -- or even one corrupt prosecutor -- from misusing the process."
Doobay and other critics of Interpol say countries use Red Notices against their political enemies because they are terrific weapons. If you're on the Red Notice list, banks will often close your accounts like they did with Homayoun. And depending on which border you cross, you can wind up locked up for months with no recourse -- or sent back to the country pursuing you.
"A Red Notice can be even more effective than the judicial system, with none of the safeguards," said Kyle Parker, a policy adviser to the U.S. Helsinki Commission, a human-rights body of the U.S. Congress. "It doesn't prosecute you. It persecutes you."
'One man's terrorist is another man's freedom fighter'
Interpol is constantly working to make its system better, Sollier said. But he acknowledges that Interpol has its limits.
"You receive something from a country where human rights are not respected ... where the independence of the judiciary is far from perfect. ... You never know," he said. "I would love to have only requests from Switzerland, you know? It's not the case. The world is not like that." Sollier also said there are a lot of gray areas where politics mingle with allegations of crime.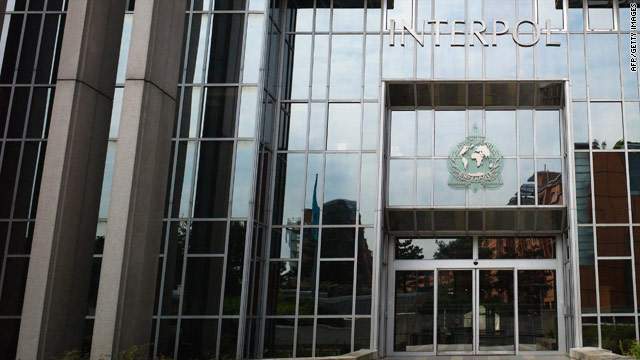 Quiz: Do you know Interpol?
Take the case of a coup, for instance. Let's say a new regime indicts the ousted leaders for corruption. Politically motivated, right? Not always, said Sollier, who left the United Nations in 2008 to head Interpol's legal affairs office. He said in the coup scenario, the grounds for prosecution might well be true even though the context is political.
"Sometimes it's really tricky," he said.
Interpol's appeals body, the Commission for the Control of Interpol's Files, handles complaints from people who are on Interpol's fugitive list and say they are unfairly targeted. The group's chairman, Billy Hawkes, said only 21 of the 215 complaints filed in 2009 specifically claimed they were being targeted because of politics.
When Hawkes' group receives a complaint about a Red Notice, it will take a closer look at each case to see if it follows Interpol guidelines. But, like Sollier, he says it can be hard to separate politics from crime, quoting the old adage that politics is in the eye of the beholder: "One man's terrorist is another man's freedom fighter."
Interpol also has another hurdle to finding political cases.
Because Interpol answers not to governments but only to its police members and its appeals body, its decisions and actions are geared toward maintaining police cooperation. Its entire operations are based on the presumption that police are telling the truth and acting with integrity. It's actually written in their rules.
"We assume that what we receive here is accurate and relevant, that an arrest warrant is issued by a judge who is not corrupt, and, of course, that the case is not political," said Yaron Gottlieb, a lawyer who has been with Interpol since 2005. "But then, if we receive information or if we have our own information that in fact, the case is different from what it seems to be, we engage in a full review."
Sometimes, Gottlieb said, Interpol's lawyers or appeals body will get wind of a potentially political case and flag it. Sometimes, a third country will ask Interpol whether a certain Red Notice is political, and that will trigger a review.
Interpol will also sometimes flag a case after hearing about it on the news.
"We'll say, hmm, let's check if we have already published it," Gottlieb said. "And maybe the (front office) has published it already. But then, we can always reopen a case for review."
Last year, the appeals body led by Hawkes recommended that 21 questionable notices be deleted and an additional 73 be removed from Interpol's public website.
We assume that what we receive here is accurate and relevant, that an arrest warrant is issued by a judge who is not corrupt.
--Yaron Gottlieb, Interpol lawyer
But his group has limits. It can't investigate cases on its own, and its recommendations are not binding on Interpol. Hawkes said there is "clear understanding" that Interpol will follow his group's recommendations, but there is no legal obligation to do so.
And while its board members are independent, the group is funded and staffed by Interpol. Also, Interpol's rules dictate that any finding by its staff can be overturned by a simple majority vote of its member states.
"It winds up being a diplomatic decision, a political decision, that concerns the political freedom of a person," said Mario Savino, a legal expert who has written about Interpol.
That is what happened to Akezhan Kazhegeldin, the former prime minister of Kazakhstan, who found his country asking for a Red Notice on him after he opposed his successor in 1999. Interpol rejected the request after judging it to be political, but at Interpol's next General Assembly, its members voted to approve the Red Notice.
After the vote, Interpol Secretary General Ron Noble said, "Interpol is a democratic organization, and when our members have expressed their will through the democratic process, the general secretariat moves promptly -- as in this case -- to implement the member states' decision."
Are there enough filters in place?
In 2005, Interpol issued 2,343 Red Notices. Last year, it was 6,344.
Partly to deal with that increased workload, Interpol is putting more power into the hands of its police members.
Two years ago, police agencies had to apply directly to Interpol for a Red Notice. Today, to help save time and money, every Red Notice request is entered into the system directly by the police agencies themselves. Other police around the world instantly see those notices before Interpol reviews them.
Police can also bypass the formal Red Notice system altogether, typing an informal notice of arrest in an e-mail and posting it on Interpol's internal communications system. Those e-mail notices -- Interpol calls them diffusions -- go out instantly with no automatic Interpol review.
Diffusions have been popular among many Interpol members. Tunisia just used one to pursue its deposed president, Zine El Abidine Ben Ali. And these informal e-mail notices are linked to far more arrests than arrests linked to the Red Notices that Interpol vets for political concerns. Interpol says it knows of 1,858 arrests last year of people named in diffusions -- more than twice the number of arrests last year -- 663 -- of people named in Red Notices.
The consequences
In the United States, Homayoun's case has drawn the attention of Sen. Jeff Sessions, a Republican from Alabama who is on the Senate Judiciary Committee.
Sessions wrote a letter to Attorney General Eric Holder in March requesting Holder take a closer look at Interpol's process.
"International cooperation on law enforcement matters is vitally important," Sessions wrote. "Nevertheless, based on the information provided to me, I am very concerned that Iran may be abusing the Interpol process to harass opponents of its repressive regime."
Now that he's officially an Interpol fugitive, Homayoun can't leave the United States. He'll probably never see his parents in Iran again. But the United States won't arrest him or send him to Iran.
Another Iranian activist, Rasoul Mazrae, wasn't so lucky.
Iran wanted Mazrae and asked Interpol to list him as a fugitive. Interpol did, and despite his official refugee status with the United Nations, Syria extradited him in 2006.
In Iran, Mazrae was jailed for two years without trial. During that time, he was tortured to the point of paralysis, had blood in his urine and lost all his teeth, his family told a U.N. official.
Iran sentenced Mazrae to death, and human-rights observers lost track of him.
"We are not aware that his death penalty has been carried out, but we cannot be absolutely sure," said James Lynch of Amnesty International.
The International Consortium of Investigative Journalists contracted Iran's U.N. mission in New York to talk about Homayoun and Mazrae. It received no response.
FOLLOW THIS TOPIC