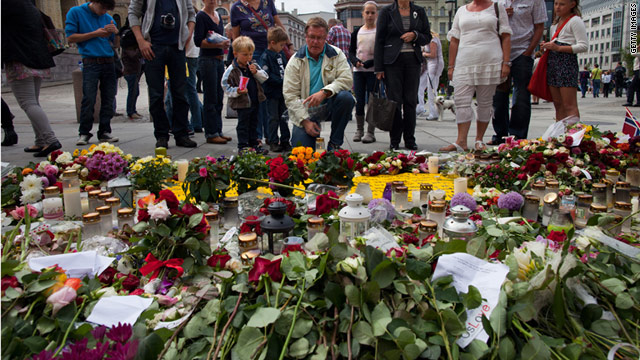 STORY HIGHLIGHTS
"I love you even if I still misbehave from time to time"
"This maniac is not allowed to destroy our society"
"We mourn for those who didn't come back from the island alive"
(CNN) -- Shortly after a bomb blast tore apart a government building on July 22, 2011, in downtown Oslo, killing eight people, Marianne Bremnes quickly tracked down her friends and relatives who might have been nearby. All were safe.
She, her husband and one of their 16-year-old twins -- their son -- were in their summer cabin in the northern town of Bremnes. She called the other twin -- their daughter Julie -- to let her know the news. Julie was in her third day of a planned five-day visit to a Labour Party camp on the Island of Utoya, located about 1,000 kilometers (620 miles) south, near Oslo. "We said, 'Everyone we know in Oslo is OK, and you can just relax and have fun in your camp,' " Bremnes said.
Though they had not spoken since Tuesday, when Julie had arrived on the island, Bremnes felt confident that her daughter was having fun. "When I don't hear anything from her, then that means she has a marvelous time," the 46-year-old arts administrator said. "I didn't hear anything from her, so I know that she had a great time in the camp."
But a half-hour later, her daughter called her back.
"'Mom, don't panic,' she said to me, 'but there's a gunman going loose here and shooting around, and you must call the police because I have tried and I can't reach them.'"
The shooting rampage on Utoya Island would last well over an hour and result in the deaths of at least 68 people. A suspect, 32-year-old Anders Behring Breivik, is in custody and has admitted carrying out both attacks, his lawyer and a judge have said.
Bremnes said her daughter told her that she and a group of other young people from her home region of Troms were attending a meeting in the camp to discuss the Oslo bombing when terror struck in the form of a man wearing clothes bearing a police emblem.
"They were about to finish the meeting when they saw this policeman walking down the road," she said her daughter told her. "They thought he was coming to tell about the bomb explosion in Oslo. Suddenly, he turned around and started to shoot. Then they ran for their lives."
Julie and four other campers reached the water in a couple of minutes and got in -- oblivious to the chill -- and waded behind a rock, where they found a hiding place on land under an overhang.
Beginning shortly before 6 p.m. and continuing over the next two hours, a series of texts between mother and daughter provided a crucial link between them and a window into the terror that had gripped the island. The texts, written in Norwegian, were provided to CNN by Bremnes.
Julie: Mummy, tell the police that they must be quick. People are dying here!
Mother: I'm working on it, Julie. The police are on their way. Dare you call me?
Julie: No.
Julie: Tell the police that there is a madman running around and shooting people.
Julie: They must hurry!
Mother: The police know and they have had many calls. It is going well, Julie. Police are calling us.
now. Give us a sign of life every five minutes please?
Julie: OK.
Julie: We are in fear for our lives.
Mother: I understand that very well, my darling. Stay hidden, do not move anywhere! The police are already on their way, if they haven't already arrived! Do you see anyone injured or killed?
Julie: We are hiding in the rocks along the coast.
Mother: Good! Should I ask your grandfather to come down and pick you up when everything is safe again? You have the option.
Julie: Yes.
Mother: We will contact Grandpa immediately.
Julie: I love you even if I still misbehave from time to time.
Julie: And I'm not panicking even if I'm shit scared.
Mother: I know that, my darling. We love you too very much. Do you still hear shooting?
Julie: No.
Mother: Have you heard anything from the other people from Troms? Grandpa is on his way down.
Julie: The police are here.
Mother: The person shooting is said to be in a police uniform. Be careful! What happens to you now?
Julie: We do not know.
Mother: Can you talk now?
Julie: No. He is still shooting!
Mother: Joergen has swum to the shore. I just spoke to his father. This is everywhere on the national news now, all attention on Utoya now. Be careful! When you get the chance, you come to the mainland and stay with Grandpa of Hamar.
Julie: I'm still alive.
Mother: And thanks and praise for that.
Julie: We are waiting to be picked up by the police. We heard shooting just now, so we dared not get up.
Mother: Good! Good, well done. The evacuation is now ongoing, they are saying on TV.
Julie: We hope we will be picked up by someone soon. Can they not catch him soon?
Mother: The anti-terrorism unit is there, and they are working on catching him.
Julie: OK.
Mother: Should we try to get the flight home tomorrow?
Julie: I have no time to think about that now.
Mother: I understand that.
Julie: Do you know if they have managed to catch him?
Mother: Will keep you posted, my darling. We are following everything on television.
Mother: Hey, are you there?
Julie: Yes. The helicopters are circling above us.
Mother: Then you should be OK?
Julie: They are looking for people in the water; we have not been picked up yet!
Julie: What are they saying in the news?
Mother: The police are also arriving by boat to Utoya, otherwise nothing new. It is not clear what's happened to the shooter, so keep still. Wait for someone to pick you up.
Mother: Now they have taken him!
Bremnes said she did not immediately grasp the gravity of the scene. "There was no news about this in the radio or television, so I really didn't know what was going on," she said. "At first, I thought this was a man with a toy gun or something, and then I realized that this was for real. And I got really worried when she texted me, 'Mom and Dad, I love you even though I'm cross with you sometimes.' Then I realized that she had sort of death panic; she was scared for her life."
Such expressions of devotion are unusual for her daughter to voice, Bremnes said. "She sometimes tells us, but not in texts. Not as you in America. You're so clever to tell anybody that you love them, but we in Norway, we normally don't do that."
Friday's events, though, have persuaded her to try to change, the Scandinavian said. "We should do it more."
The family reunited late Saturday in the northern city of Troms, where Julie had flown with other youths from her region. Bremnes said she can't remember exactly what was said when they reunited. "I think it was something like, 'I love you, darling,' or something like that. We both cried way much when we met. We all cried, all four of us cried when we met."
Their tears were not just over Julie's good fortune. Among those who did not return Saturday night were five of Julie's best friends.
Bremnes said she has since learned that Julie helped calm the other young people with whom she shared their rocky redoubt. "She told one of them to get to sleep. 'You have to sleep,' she said to him. She told him that he had a great dialect, and she did some small talking to them to get them calm."
Bremnes said her elation over her daughter's safe return is tempered with sadness. "I let myself feel happy even though we mourn for those who didn't come back from the island alive. So, I am proud of her, and she's a tough girl. Strong girl. And she's now mourning for those, the close friends, who died."
The mother's pride in her daughter extends to her countrymen. "We have had a healthy reaction to this tragedy," she said, citing Monday's massive rallies throughout the country. "We went into the streets and we marched and had a nice time showing each other and the whole world that we want democracy, we want love, we want a caring society, and this maniac -- because that's what he is -- this maniac is not allowed to destroy our society. And if he tries to destroy it, then the opposite happened. We are more strong together than we ever have been. We had to see the good things in this, and love is a good thing coming out of this."
Julie is planning to return to the island this fall, and her mother said she will let her go. "Yes, of course I will. Of course I will. I think that's the only thing to do, the right thing to do."