STORY HIGHLIGHTS
The incident took place in Birmingham
Residents say the three victims were hit by a car while protecting businesses from looters
Two others remain in custody while another two are bailed out pending investigations
(CNN) -- Two men will appear in court Sunday in the hit-and-run deaths of three men during the riots that roiled Britain last week.
Police charged the two, ages 26 and 17, with three counts of murder in the incidents in Birmingham, Britain's second largest city.
Their names have not been released.
Residents say the three victims were mowed down by a car while protecting businesses from looters.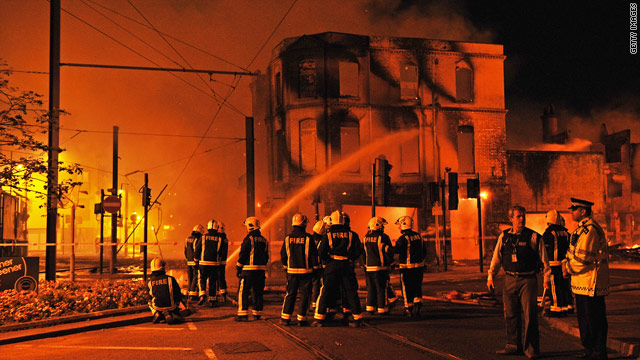 Gallery: Riots spread across London and the UK

Lawyer: UK night court is unprecedented

The defining image of London riots
Haroon Jahan, 21, along with two brothers, Shazad and Munir Hussein -- both in their 30s -- were keeping watch outside a gas station following a break-in by looters during the riots, relatives said.
"The guy who killed him drove directly into the crowd and killed three innocent guys," said Tarik Jahan, father of the youngest victim. "Why? What was the point of doing that? I don't understand."
Two others remain in custody while another two were bailed out pending further investigations.
"All they wanted to do was to protect their business and other businesses within the community," said Abdullah Khan, an uncle of the two brothers.
Shazad Hussein was looking forward to the birth of his first child in a few months, the uncle said.
"A father will never hold his child, a child will never be held by his father, a wife without a husband, parents who have lost two sons. Words can never express what we are going through at this moment," he said.
Khan appealed for justice, and asked witnesses to come forward.

David Cameron: 'You will pay'

Behind the scenes of UK riot reporting
Community groups are planning a peace rally Sunday for the victims.
Birmingham, like many other areas in Britain, was rocked by riots that started after the shooting death of a man who protesters said was killed by police.
The violence first broke out about a week ago August 6 following protests over the death of Mark Duggan in the north London neighborhood of Tottenham. He was shot after a police unit that deals with gun crime stopped a cab carrying the 29-year-old father of four.
Police have arrested more than 2,200 people around the country, many of whom have appeared before magistrates.
Hearings are being held around-the-clock.
CNN's Elizabeth Joseph and Faith Karimi contributed to this report.
FOLLOW THIS TOPIC