STORY HIGHLIGHTS
The editor of the News of the World "banned reference to phone hacking," a letter says
Lawmaker Tom Watson says new documents contain explosive revelations
Four former senior News International staff are called to give evidence next month
News International says it recognizes the seriousness of the newly released materials
London (CNN) -- Phone hacking was "widely discussed" at News of the World, the royal correspondent jailed and sacked for the practice wrote in 2007, according to documents released Tuesday by a Parliament committee investigating the scandal.
The letter was among a string of documents released by the Culture, Media and Sport Committee relating to the scandal.
The committee is highly likely to call News Corp. executive James Murdoch to testify before them again as members try to determine whether he misled them last month about the scale of phone hacking at News of the World and who knew about it, member of Parliament Tom Watson said Tuesday.
Executives at News International -- the British arm of News Corp. that ran the newspaper -- have argued that illegal activities were not widespread.
Documents: Hacking 'widely discussed'
Both James and his father, Rupert Murdoch, as well as former News International chief executive Rebekah Brooks, who previously edited News of the World, gave evidence to the committee last month.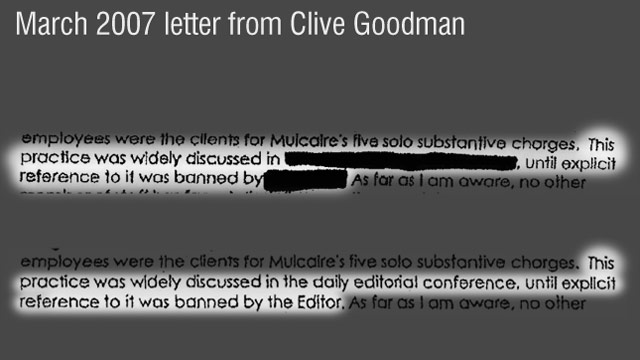 Unredacted Goodman letter

Phone hacking 'widely discussed' at NOTW

Former editor justifies phone hacking

Phone hacking: Why did police fail?

End of the road for News of the World
James Murdoch ordered the shutdown of News of the World, Britain's best-selling Sunday paper, in July in the face of allegations of illegal eavesdropping and police bribery by its employees. The scandal has led to the resignation of a number of senior police officers and executives at News International.
The letter published Tuesday reveals that while fighting his dismissal from the paper four years ago, former royal correspondent Clive Goodman alleged that "other members of staff were carrying out the same illegal procedures."
The letter, provided to the committee by law firm Harbottle & Lewis, goes on: "This practice was widely discussed in the daily editorial conference, until explicit reference to it was banned by the Editor."
The editor at the time was Andy Coulson, who has denied knowledge of illegal practices while he was at the helm of News of the World. He resigned from that position on the day Goodman was jailed.
Coulson was later appointed Prime Minister David Cameron's spokesman but stepped down at the start of this year amid renewed questions over phone hacking. Coulson was arrested and released on bail last month.
Goodman's letter continues: "Tom Crone and the Editor promised on many occasions that I could come back to a job at the newspaper if I did not implicate the paper or any of its staff in my mitigation plea. I did not and I expect the paper to honour its promise to me."
John Whittingdale, who chairs the parliamentary committee, said after its members met Tuesday that he anticipated James Murdoch, as chairman of News International, would have more questions to answer on the phone-hacking issue.
"James Murdoch clearly is the man who is ultimately responsible for News International in this country," he said to Sky News.
The committee said Tuesday it would call News of the World's former head of legal affairs, Tom Crone, and another former editor, Colin Myler, to give further evidence on September 6, as well as News International's ex-human resources director, Daniel Cloke, and its former director of legal affairs, Jon Chapman.
It will also write to Coulson, Brooks, Stuart Kuttner, who is a former managing editor of News of the World, and Les Hinton, who was Brooks' predecessor at News International, to ask if they wish to add to or amend any of the evidence they have previously given, the committee said.
However, it is unlikely to call back Rupert Murdoch for more testimony, Watson told CNN, as he had "little grasp of the detail" when he gave evidence previously.
Watson said the newly published documents contain some "very serious and explosive" revelations. He also questioned why more was redacted in versions of correspondence provided to the committee by News International than in versions of the same letters provided by Harbottle & Lewis.
A News International statement Tuesday said: "News Corporation's board has set up a Management and Standards Committee, chaired by independent Chairman Lord (Anthony) Grabiner, which is co-operating fully with the Metropolitan Police and is facilitating their investigation into illegal voice mail interception at the News of the World and related issues.
"We recognize the seriousness of materials disclosed to the police and Parliament and are committed to working in a constructive and open way with all the relevant authorities."
Cameron, who has come under pressure over his decision to hire Coulson after he resigned from News of the World, has said he relied on Coulson's assurances that he was unaware of illegal activity.
Responding to the committee's release of correspondence, a Downing Street spokesman said it would be "inappropriate" to comment while investigations were ongoing.
"The prime minister has made his thoughts on Andy Coulson clear," the spokesman said. "He has said that 'if it turns out I have been lied to, that would be the moment for a profound apology. And, in that event, I can tell you I will not fall short.'"
According to his letter, Goodman asked the company to produce copies of e-mails between him and five other people whose names are blacked out in the parliamentary publication of his letter. News International refused the request, according to internal correspondence also published by lawmakers.
Chapman said in internal e-mails that the company had not found evidence to support Goodman's claims in its own trawl of the correspondence, but asked Lawrence Abramson at Harbottle & Lewis to review it to head off the "bad publicity" that could result from allegations the company had "covered up potentially damaging evidence."
Abramson wrote back to Chapman and Cloke on May 25, 2007, to say they did not find any evidence that three people whose names are blacked out "knew that Clive Goodman, Glenn Mulcaire or any other journalists at News of the World were engaged in illegal activities prior to their arrest."
Whittingdale, in his July 29, 2011, letter to Harbottle & Lewis, quotes the firm as having written in 2007 that they had reviewed e-mails "from the accounts of: Andy Coulson, Stuart Kuttner, Ian Edmonson, Clive Goodman, Neil Wallis, Jules Stenson."
The firm told Chapman nothing was found in those e-mails "which appeared to us to be reasonable evidence that Clive Goodman's illegal actions were known about and supported by both or either of Andy Coulson, the Editor, and Neil Wallis, the Deputy Editor, and/or that Ian Edmondson, the News Editor, and others were carrying out similar illegal procedures."
But in a strongly worded statement to lawmakers this month, Harbottle & Lewis emphasized that its review had been strictly limited to the Goodman employment dispute.
"There was absolutely no question of the firm being asked to provide News International with a clean bill of health which it could deploy years later in wholly different contexts for wholly different purposes," Harbottle & Lewis wrote.
Claims that the voice mail of murdered British teenager Milly Dowler was among those hacked by the paper's staff, potentially hindering a police investigation, have sparked particular outrage.
The correspondence released Tuesday reveals that Whittingdale sent James Murdoch a list of 19 questions after his testimony before the committee, ranging from who was on duty at News of the World when Milly Dowler's phone was hacked to what legal fees News International paid for private investigator Glenn Mulcaire.
News International has no record of who edited the 2002 issue of News of the World that included reference to a Milly Dowler voice mail, James Murdoch told British lawmakers in the newly released written evidence.
Brooks, the editor of the paper at the time, was on vacation that week, he said, and the company records do not show who was deputized for her, he said. Peter Smith was night editor, and Neville Thurlbeck, who was arrested earlier this year in connection with the phone-hacking investigation, was news editor.
James Murdoch was asked to provide the written response after additional questions were raised by Myler and Crone. They said Murdoch had been "mistaken" in his testimony regarding an important piece of evidence.
Crone and Myler said they had told Murdoch of an e-mail regarded as central to the question of whether more than one reporter at the paper was involved in illegal activity. Murdoch gave contradictory evidence to the committee.
The e-mail referred to by Crone and Myler is known as the "for Neville" e-mail, so named for its apparent connection to Thurlbeck. It is thought to have played a key role in the decision by executives at News International to agree to an out-of-court settlement with Gordon Taylor, chief executive of the Professional Footballers' Association. James Murdoch admitted in testimony to the parliamentary committee that the payout was for "illegal voice mail interception."
In a letter to Whittingdale released Tuesday, Crone said he believed he had informed James Murdoch of the "for Neville" e-mail in a June 2008 meeting.
He wrote: "Since the 'for Neville' document was the sole reason for settling and, therefore, for the meeting, I have no doubt that I informed Mr. Murdoch of its existence, of what it was and where it came from. I do not recall if I produced it and showed him a copy of it."
Two police investigations are also under way into allegations that journalists from News of the World hacked into voice mails of people ranging from celebrities to crime victims and illegally paid police for information.
A dozen people have been arrested and bailed out in connection with the inquiries.
CNN's Richard Allen Greene, Carol Jordan, Laura Perez Maestro and Laura Smith-Spark contributed to this report.
FOLLOW THIS TOPIC