STORY HIGHLIGHTS
Manchester Ship Canal was opened in 1894 but fell into decline in last century
Canal's fortunes have been revived and now carries 10,000 containers per year
Operators hope use will rise and say it brings savings to consumers and environment
Liverpool, England (CNN) -- Britain's canal systems were once viewed as a throwback to a bygone age of freight transport, sidelined or abandoned in favor of faster road and rail links.
But as one major waterway undergoes a renaissance, shipping huge quantities of wine and other goods through two of the country's major trading hubs, the network could be poised to reclaim its original role and at the same time help cut pollution levels.
The Manchester Ship Canal, which opened to great fanfare in 1894, was originally built as a way for the inland northern city of Manchester to strike back against its commercial rival Liverpool, advantageously located on the coast, 35 miles to the west.
At the time it was an engineering triumph, capable of conveying the world's largest ships -- and their valuable cargos -- right into the heart of landlocked Manchester.
Following the advent of container ships the canal fell into decline as its shallow waters were unable to accommodate the leviathans of modern maritime commerce. Containers were instead diverted to other ports and dispatched across the country on trains and trucks.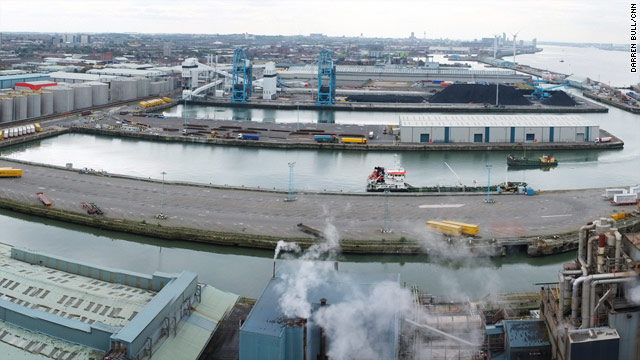 Gallery: Manchester Ship Canal's green rebirth
"When the ship canal was built it could take the largest ships in the world," said Alan Feast, the deputy manager of Mersey Ports, part of the company that now runs both the docks in Liverpool and the Manchester canal. "Times moved on, ships got bigger, but infrastructure on the canal hasn't."
This all changed in the past decade. Realizing the canal still had potential -- not only as a logistical link, but also as a way of slashing carbon emissions around two of the UK's largest cities -- investors began breathing new life into the waterway.
Inspired by the commercial traffic that plies the waterways of central Europe, the canal's operators acquired two Dutch barges capable of carrying enough shipping containers to produce a commercially viable trade route.
"If you go into central Europe, Germany, the Rhineland, lots of barges are used," said Gary Hodgson, the managing director of the Port of Liverpool and Manchester Ship Canal.
"However, over the last 25 years, the ship canal has been very much under-utilized, and we're now revitalizing that excellent asset we have."
Says Hodgson, some 10,000 containers are now being shipped down the canal -- a service he says is already reaping benefits in terms of savings to consumers and, thanks to the barges' lower carbon emissions, the environment.
Economic benefits are there, certainly the green benefits are there, but this industry is slow to change
--Gary Hodgson, managing director of Port of Liverpool and Manchester Ship Canal
But, he says, with the canal only taking 5% of container traffic handled by the port in Liverpool, there is considerable room for improvement. There are hopes that the canal will take up to 200,000 containers.
"Mindset is only thing we have to change," he said. "Economic benefits are there, certainly the green benefits are there, but this industry is slow to change and we have to accelerate that demand for change because we believe we offer some real sustainable benefits."
British Waterways, the nationalized company that oversees the country's canal network, agrees, suggesting the model could be adopted on other UK canals and rivers. It cites studies of commercial use of London's canal network that point to major reductions in environmental damage and road traffic congestion.
Data produced by the UK's Tyndall Centre for Climate Change Research in 2006 showed that moving freight by water produced only one quarter of the emissions than equivalent trips by road.
It said truck journeys created emissions of 0.08 tons of carbon for every 1,000 tons of freight moved a distance of one kilometer. By comparison, water transport produces 0.02 tons.
According to Feast, traffic levels on the Manchester Ship Canal now match those of 25 years ago, with cargoes including petroleum, chemicals, coal and grain. Newer converts to the waterway include Tesco, one of the world's most profitable retailers.
Tesco claims its use of the canal to transport 41.5 million bottles of wine per year removes the need for 50 truck journeys each week. It says carbon emissions will be cut by 80% on the route.
Michael Forde of Kingsland Wines and Spirits, which uses the canal to import 80 million liters of wine from New Zealand, South Africa, Australia and Chile to its bottling plant outside Manchester, says his company switched to using the canal five years ago.
He says although the transport barges are considerably slower than their road-based rivals, in terms of reduced environmental impact, the wait is worth it.
"It takes six hours for the journey, but considering the wine has taken six-to-seven weeks to get here, that's a small percentage in the overall lead time in the supply chain."
Barry Neild contributed to this story.
FOLLOW THIS TOPIC