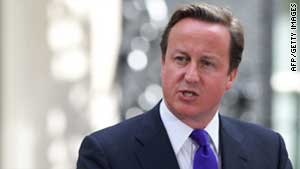 British Prime Minister David Cameron is visiting Moscow on a trade mission (file photo).
STORY HIGHLIGHTS
NEW: Russia's president says again the suspect in a former spy's death won't be extradited
British PM David Cameron renews criticism of Russia over the former spy's death
British authorities want former KGB agent Andrei Lugovoi sent to London for trial
Lugovoi is suspected in the 2006 radiation poisoning death of Alexander Litvinenko
Moscow (CNN) -- British Prime Minister David Cameron criticized Russia on Monday over its refusal to hand over a former KGB agent suspected in the 2006 poisoning death of a dissident former Russian spy in London, even as he called for better relations between the two countries.
"It is the job of governments to help courts to do their work and that will continue to be our approach," Cameron said in a speech in Moscow.
Authorities in London want Russia to extradite Andrei Lugovoi, who is suspected in the radiation poisoning death of Alexander Litvinenko.
Litvinenko, a vehement critic of then-Russian President Vladimir Putin, was a former KGB agent who came to Britain in 2000 after turning whistle-blower on the FSB, the KGB's successor. He claimed in a book that FSB agents, and not Chechen rebels, carried out a series of bombings at Moscow apartment buildings and a mall in 1999 that killed 300 people.
He died at a London hospital November 23, 2006, after being poisoned by the radioactive material polonium-210. In a deathbed statement he blamed Putin, an accusation the Kremlin has strongly denied.
Cameron said the question of whether Lugovoi is responsible for Litvinenko's death is a matter solely for the courts.
"The accused has a right to a fair trial," he said. "The victim and their family have a right to justice."
Russian President Dmitry Medvedev repeated the longstanding position of authorities there that the country's constitution forbids the extradition of Russian citizens.
"This will never happen no matter what," he said. "We should understand and respect that."
Tension over the incident has strained relations between the former Cold War foes. Each country expelled some of the others' diplomats in 2007, and Russia announced it would limit cooperation on crime and terrorism issues.
The countries have partially overcome the thaw by being frank with one another, Medvedev said.
"I think we've managed to, in many ways, overcome the difficulties in our relations," he said. "But this doesn't mean that we don't have difficult issues anymore. There are issues where our positions don't coincide, but the most important thing is that we are direct about that, and say what's possible for us -- from a legal standpoint -- and what's impossible."
Despite the renewed criticism over the Litvinenko case, much of Cameron's speech Monday was conciliatory as he pitched a new, improved relationship focused on economic partnerships between the nations.
"We have a responsibility to recognize the many ways in which we do need each other, to end the old culture of tit-for-tat and find ways for us to work together," he said.
Cameron is in Moscow on a trade mission. Foreign Secretary William Hague and executives from companies including BP, Rolls Royce and British Airway joined him on the one-day trip, Cameron's office said.
CNN's Alla Eshchenko contributed to this report.
FOLLOW THIS TOPIC