Witness: Palestinian shot, left for 30 minutes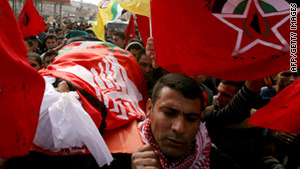 A Palestinian man shot and killed by Israeli police was left for 30 minutes without medical attention, according to a witness.
STORY HIGHLIGHTS
Witness: Soldiers fatally shot Palestinian at checkpoint, left him for 30 minutes
Israeli military: The Palestinian man approached a checkpoint from an unauthorized lane
Soldiers reportedly feared the man was going to stab them with a bottle
(CNN) -- A Palestinian man who was shot and killed by Israeli soldiers was left on the ground for 30 minutes before receiving medical attention, a man who said he witnessed the incident told CNN.
The witness, who would identify himself only as Abdallah for fear of reprisal by Israeli authorities, said he was standing behind the victim just before the shooting.
Abdallah, who was located by CNN, said the man had passed through the security checkpoint near Nablus in the West Bank when a female Israeli soldier started speaking to him in Hebrew. The man turned around and began walking toward her, Abdallah said. The soldier then started to scream at him and, moments later, a soldier next to her opened fire. Abdallah told CNN that other soldiers then fired, and the man fell to the ground, where he lay for about half an hour before receiving medical attention.
The Israeli military said Sunday the man had approached soldiers from an unauthorized lane and was holding a glass bottle. The military said soldiers called on him to stop, but that the man did not comply and continued to approach the soldiers.
He came within a few meters of soldiers, "who then operated according to (Israeli military) rules of engagement, firing towards him," the military said in a statement.
The Israeli military said it was investigating the incident, and reported that the soldiers feared the man was going to stab them with the glass bottle.
Abdallah said he did not see the victim holding a glass bottle when he was shot.
Palestinian Authority spokesman Ghassan Khatib told CNN on Monday that his government condemned the checkpoint shooting and called it murder.
"The man was shot in cold blood and the Israelis said after the killing there were no arms, there was nothing. It was unjustified," said Khatib. "One can describe it as coldblooded killing."
Contacted Monday, the Israeli military could provide no new details on the incident and said it was still under investigation.
CNN's Karen Smith and Kevin Flower contributed to this report.
FOLLOW THIS TOPIC