Clinton: Sanctions against Iran helping delay its nuclear program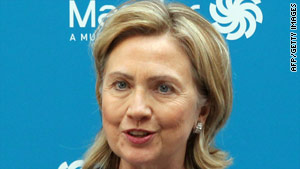 Hillary Clinton said economic sanctions "have made it much more difficult for Iran to pursue its nuclear ambitions."
STORY HIGHLIGHTS
Iran does not want to see peace between the Israelis and the Palestinians, she says
She says the country wants attention shifted from its goal to produce nuclear weapons
Clinton: I am "deeply worried" about efforts to destabilize Lebanon
She will spend five days in the Persian Gulf region
(CNN) -- Economic sanctions are helping to slow Iran's nuclear program, U.S. Secretary of State Hillary Clinton said Monday.
"The most recent analysis is that sanctions have been working," she said during the taping of a television show in Abu Dhabi, United Arab Emirates. "They have made it much more difficult for Iran to pursue its nuclear ambitions. Iran had technological problems that have made it slow down its timetable. So we do see some problems in Iran."
Clinton, who is on an official trip to Abu Dhabi, said there is "very little doubt" that Iran would support peace between the Israelis and the Palestinians.
"For its own purposes, it wants to keep the attention off of what is the big concern for the future -- which is a nuclear-armed Iran whose weapons could threaten its neighbors and beyond," she said. "So, if they can shift attention away from their own internal decisions about whether or not to pursue and produce nuclear weapons, they will be very happy about that."
That should not be allowed to happen, Clinton said.
"We cannot get that attention get diverted. And we cannot let any outside influence cause a conflict in the Middle East which would be disastrous for everyone," she said.
Clinton left on a five-day trip to the Persian Gulf region over the weekend -- a visit intended to highlight citizens' participation in society and opportunity for young people in a part of the world where a majority of the population is under 25.
After her stop in the United Arab Emirates, she will also visit Oman and Qatar. In each stop, she is expected to focus on on social issues including child marriage and domestic violence, as well as on innovation and promoting business development.
In a pre-trip briefing with reporters, State Department officials said the secretary also will meet with the leaders of those three countries to discuss regional security issues including Iraq, Iraq, the Middle East peace process, Lebanon and Yemen.
At the television taping Monday, Clinton also touched on Lebanon.
"I am deeply worried about the efforts to destabilize Lebanon," she said.
Clinton said she has met with Lebanese Prime Minister Saad Hariri and has also talked with Saudi, French and Egyptian leaders "to try to make sure we stabilize Lebanon and prevent any outside interests or anyone within Lebanon who is getting direction from outside interests from taking steps that will destabilize Lebanon and perhaps provoke conflict."
In Qatar, Clinton will participate in the Seventh Forum for the Future, a joint initiative of the countries of the broader Middle East and North African region and the industrialized countries of the G8. She will take part in a conversation with a foreign minister from the region, a civilian representative, and a business representative.
The Obama administration has invested considerable energy in improving relations with Qatar, a key player in many regional issues including Sudan and Yemen.
FOLLOW THIS TOPIC