Report: Kuwaiti prime minister visiting Iraq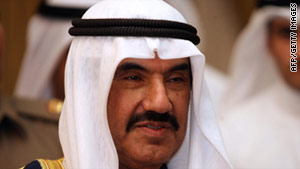 Prime Minister Nasser Mohammed Al-Ahmed Al-Sabah's trip to Iraq marks the highest-level Kuwaiti visit to Iraq since 1990.
STORY HIGHLIGHTS
Iraqi state media: The Kuwaiti prime minister is on an official visit to Baghdad
The trip is Kuwait's highest-level visit to Iraq since 1990
A Kuwaiti foreign minister visited in 2009
Baghdad (CNN) -- Kuwait's prime minister will meet top Iraqi officials in Baghdad Wednesday, state media reported, the highest-level Kuwaiti visit to Iraq since Saddam Hussein invaded the smaller country in 1990.
Prime Minister Nasser Mohammed Al-Ahmed Al-Sabah is to meet his Iraqi counterpart Nuri al-Maliki and other top officials, Al-Iraqiya state TV said.
In early 2009, Kuwait's Sheikh Mohammed Sabah al-Salem al-Sabah -- who served as the country's foreign minister and deputy prime minister -- visited Iraq. He said at the time that Kuwait wants to strengthen and develop ties between the two countries.
The Kuwaiti diplomatic delegation two years ago met with Iraqi officials, including al-Maliki, who said that the Saddam Hussein regime "harmed Arab relations."
Sunday marks the 20th anniversary of the Persian Gulf War, which started as an air assault on Iraq and Kuwait by international forces. It was a result of Iraq's invasion of Kuwait on August 2, 1990.
The Persian Gulf War left behind heavy environmental damage in Kuwait. Days vanished into nights, black rain fell from the sky and lakes of oil as deep as six feet emerged.
Saddam also poured 10 million barrels of oil into the sea. Thousands of birds perished, and the people of the Persian Gulf started suffering from new diseases.
Iraq-Kuwait relations remain tense 20 years later. Iraq still pays 5% of its oil revenues to Kuwait.
CNN's Mohammed Tawfeeq contributed to this report.
FOLLOW THIS TOPIC